Manchester is Leading the Way for Business Growth in the North West, According to our Data Experts
Here at alldayPA, we're passionate about helping businesses of all sizes, including small businesses, across multiple industries. By outsourcing your customer service to us and letting professionals deal with your customer interactions, you can really maximise your growth. Playing a part in the growth of small businesses is something we love, and we're always keen to see how businesses and sectors are growing in our city of Manchester and across the North West. So, we set our data analysts the task of analysing the business landscape in the North West, in terms of small business growth within cities and towns, and the growth of sectors more generally. In this blog, we'll detail our findings and the ways that we can help small businesses to excel in their industries!
To draw our conclusions, we gathered our data from different datasets on the Office for National Statistics. We then categorised and organised our data in a way that allowed us to analyse the growth in the total number of businesses across the North West from 2020 to 2021, as well as specific industry growth, and the number of businesses per borough in the North West.
Using this approach and data, we found that Manchester leads the way when it comes to business growth, and the transport and storage sector (including postal) experienced the most growth as a sector from 2020 to 2021. Now, we'll delve deeper into these findings, what they mean, and the potential reasons for these findings.
If you're a small business looking to grow for the remainder of 2021 and beyond, we'd love to give you a helping hand! You can find out more about our packages online, or if you have any questions that you'd like to ask, then a member of our team would be happy to chat – just give us a call any time between 9am and 6pm on weekdays. For now though, let's explore our findings and what it means for sectors across Manchester and the North West!
Manchester ranks number 1 in the North West for highest number of businesses in 2021
Using the data from ONS, our data experts retrieved information about the number of businesses per borough in the North West to see exactly where the most businesses were located in the North West. According to their findings, Manchester City came out on top, with a total of 22,850 businesses in this part of the North West. Of course, this area is probably one of the largest in the North West and will therefore likely have the most businesses based on population size and geography.
However, the gap between Manchester and the next city is rather large – second to Manchester is Liverpool City with 14,600 businesses in this area, showing that Manchester is excelling when it comes to business count. Once the beating heart of the industrial revolution, Manchester has continued to lead the way when it comes to business growth. The city is officially the UK's Top Digital Tech City, thanks to a £5 billion digital ecosystem. As well as this, specialists in different areas continued to create innovative solutions, particularly in healthcare. This is largely down to Manchester having devolved control over its £6 billion budget for health and social care.
In recent years, investments into Manchester's business landscape will have undoubtedly aided the growth of businesses within the area. As well as investments into the city itself, Manchester also invests into its business, thanks to services and schemes provided by the likes of MIDAS – an inward investment promotion agency. Services such as training, access to financial support, and assistance with finding business properties help to set businesses up for success. As well as the investment and growth in the city, ultimately Manchester is the ideal location for businesses looking to be a part of a diverse and collaborative community, so it's no wonder that it has the greatest number of businesses in the North West calling it home!
Besides Manchester City Centre, it seems that Greater Manchester as a whole is thriving when it comes to the total number of businesses in the area. Greater Manchester is made up of 10 boroughs, and 7 of these have a place in our top 10, as evident by the graph. Here's a further breakdown of the data for these other boroughs outside of Manchester City:
Stockport – 11,920 businesses
Trafford – 11,595 businesses
Salford – 11,075 businesses
Bolton – 10,330 businesses
Wigan – 9,020 businesses
Bury – 8,025 businesses
Whilst the total number of businesses in each borough are relatively similar and a little closer further down the rankings, it is clear to see that boroughs in Greater Manchester are ahead of the game, with most boroughs in other areas like Lancaster and Cumbria further down the list. There's no doubt that being close to Manchester City Centre, which is the home to many successful businesses, plays a part in these boroughs also being at the top.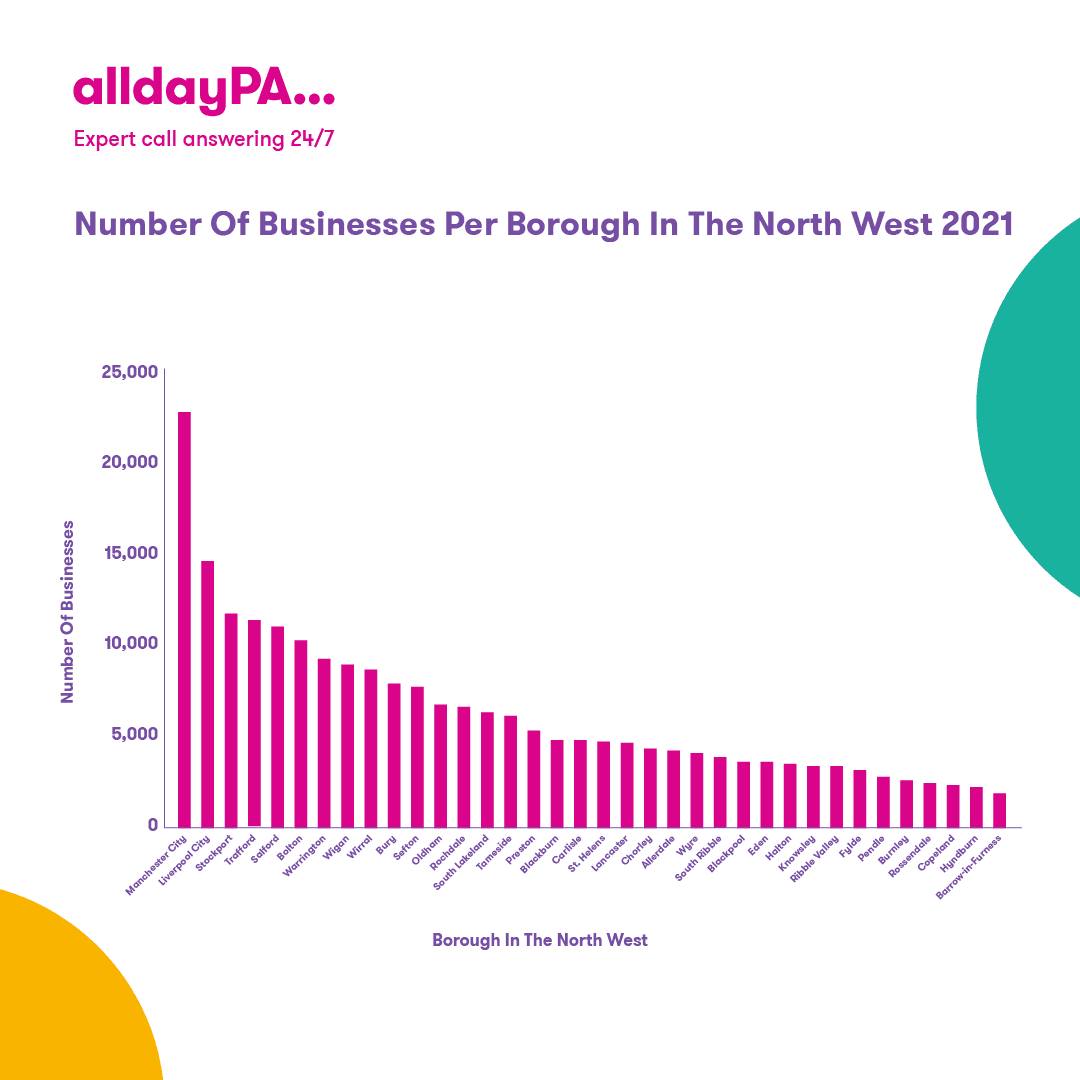 What about specific sectors?
Our data analysts also looked into the top 10 sectors across Manchester and found that the 'professional, scientific and technical' industry comes out on top, meaning that there are more businesses within this sector than any other. According to the data set from ONS that was used in our research, this sector comprises companies that specialise in performing professional, scientific, and technical activities for others – these activities require a high degree of expertise and training.
However, despite this sector dominating the business landscape in Manchester, across the North West, this sector hasn't experienced any growth at all from 2020 to 2021. Instead, it has declined with a growth of -1.91% according to our findings. Whilst the COVID-19 pandemic may have hindered the growth of businesses in this area, it certainly hasn't stopped Manchester from excelling in this sector. This is perhaps because the businesses in Manchester, within this sector, are well-established and resilient enough to get through the pandemic without any major negative impacts.
Aside from this sector, in second place is retail, with the information and communication sector taking third place. The latter is essentially ICT and is an umbrella term that encompasses radio, television, cellular phones, computer and network hardware and software, satellite systems, and so on. Information and communication were still vital throughout 2020, and maybe more so than ever – many businesses have had to adapt to working from home whilst still communicating with their teams and carrying out their roles, and technology has played a huge part in facilitating this. As such, many businesses in this sector have had to step up and grow to help customers, whilst others have seen the demand for these services and have capitalised on this by launching their own business within this sector. We'll also be going on to discuss the likely reasons behind the growth of the retail sector shortly.
Interestingly, in terms of the North West as a whole, the transport and storage sector has seen the most growth from 2020 and 2021, with a growth of 15.22%. At first glance, this may seem hard to believe – after all, with the UK plunged into lockdown or faced with restrictions throughout most of 2020, it's likely that less people were commuting, especially because the government and businesses were encouraging staff to work from home. However, because this sector also includes postal services, providing transportation of cargo, warehousing, storage for goods, and support activities related to modes of transportation, there are clear explanations as to why this sector has experienced the most growth.
Throughout 2020, and during lockdowns in particular, online shopping reportedly grew, meaning that the demand for warehousing and delivery services also likely increased. In turn, the sector clearly increased with businesses growing, or new businesses being created to capitalise on the demand. This demand for goods has also been reflected by the growth of the wholesale and retail sectors – according to our findings, the wholesale sector has grown by 5.44%, whilst retail has seen a growth of 4.37%. With events such as Black Friday and Christmas fast approaching, we expect to see further growth in these sectors. However, with the current lorry driver shortage that has been widely reported, it will be interesting to see how this impacts relevant industries and their growth in the coming months.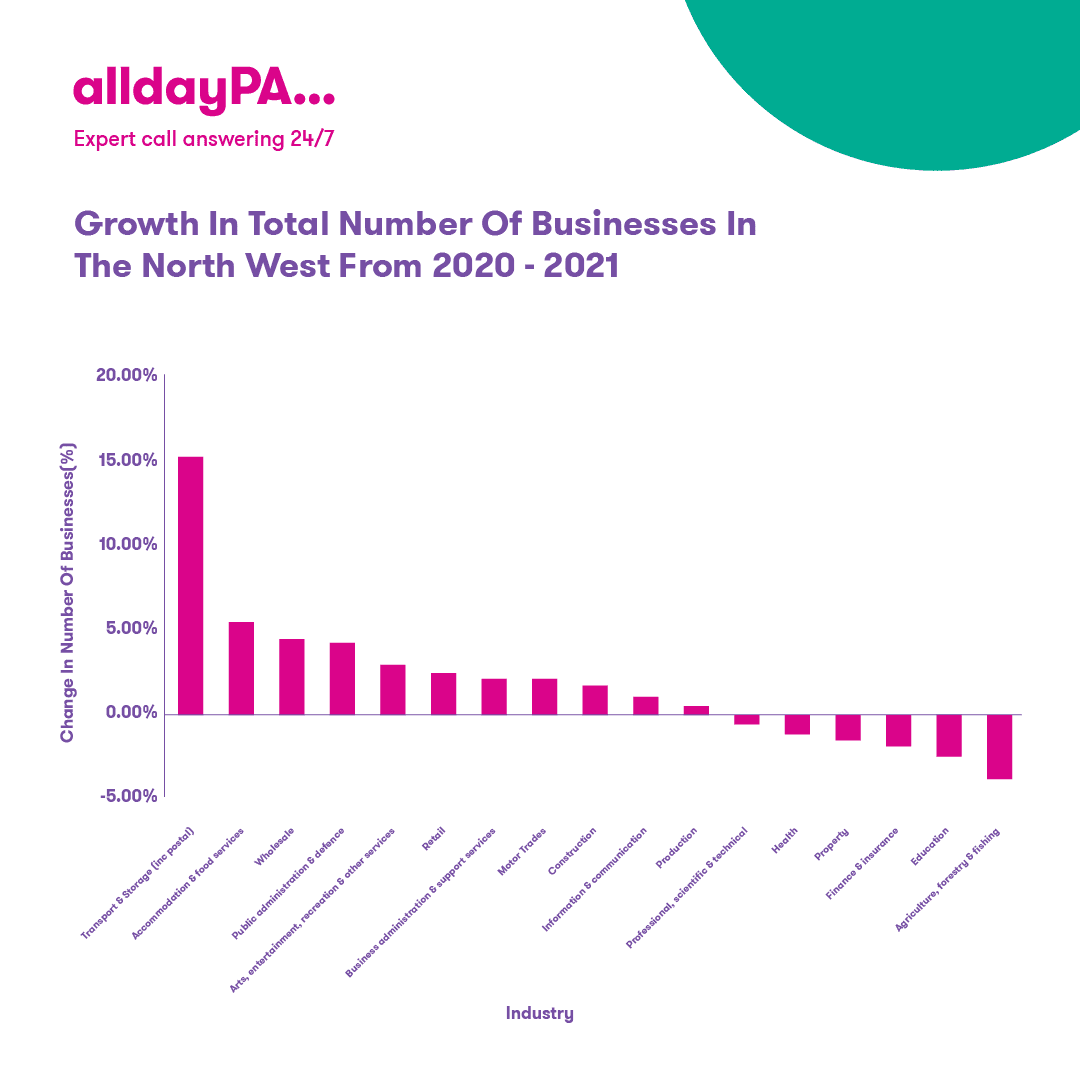 Here's a note from our CEO and Founder of alldayPA, Reuben Singh, about our findings:
"It's great to see that the North West, and Manchester in particular, is leading the way for SME growth, with the data analysed by our team revealing that most businesses founded in 2021 are under 30 people in terms of staff count. We feel that it's important, as a northern customer service provider, to let business owners know that we're here to support them with their customer enquiries no matter what sector they are in.
"We've also looked into the sector growth, and it's interesting to see that the transport, property, retail, and professional, science and technical industries are continuing to thrive in the North West and are likely to keep growing in the new year. We've also noticed how the transport sector has been massively impacted due to logistic issues across the country with a limited number of courier and HGV drivers. To help people plan ahead for 2022, we've put some processes in place to give small businesses the support they need during autumn and winter. With Black Friday and Christmas approaching, we are here to give people our expert advice and guidance when it comes to their call, email and virtual communications management. Our service operates on a 24/7/365 basis, which gives people the time to wind down in preparation for the holidays."
How alldayPA can assist small businesses in 2021 and beyond…
Since the pandemic, businesses have embraced new ways of working, including hybrid structures and having remote teams. Inevitably, this can present new challenges, especially in peak times. With key events coming up, like Black Friday and Christmas, it's likely that many businesses will see an increased demand for customer service as things get busier. That's exactly where we're on hand to help, during these busy periods and beyond!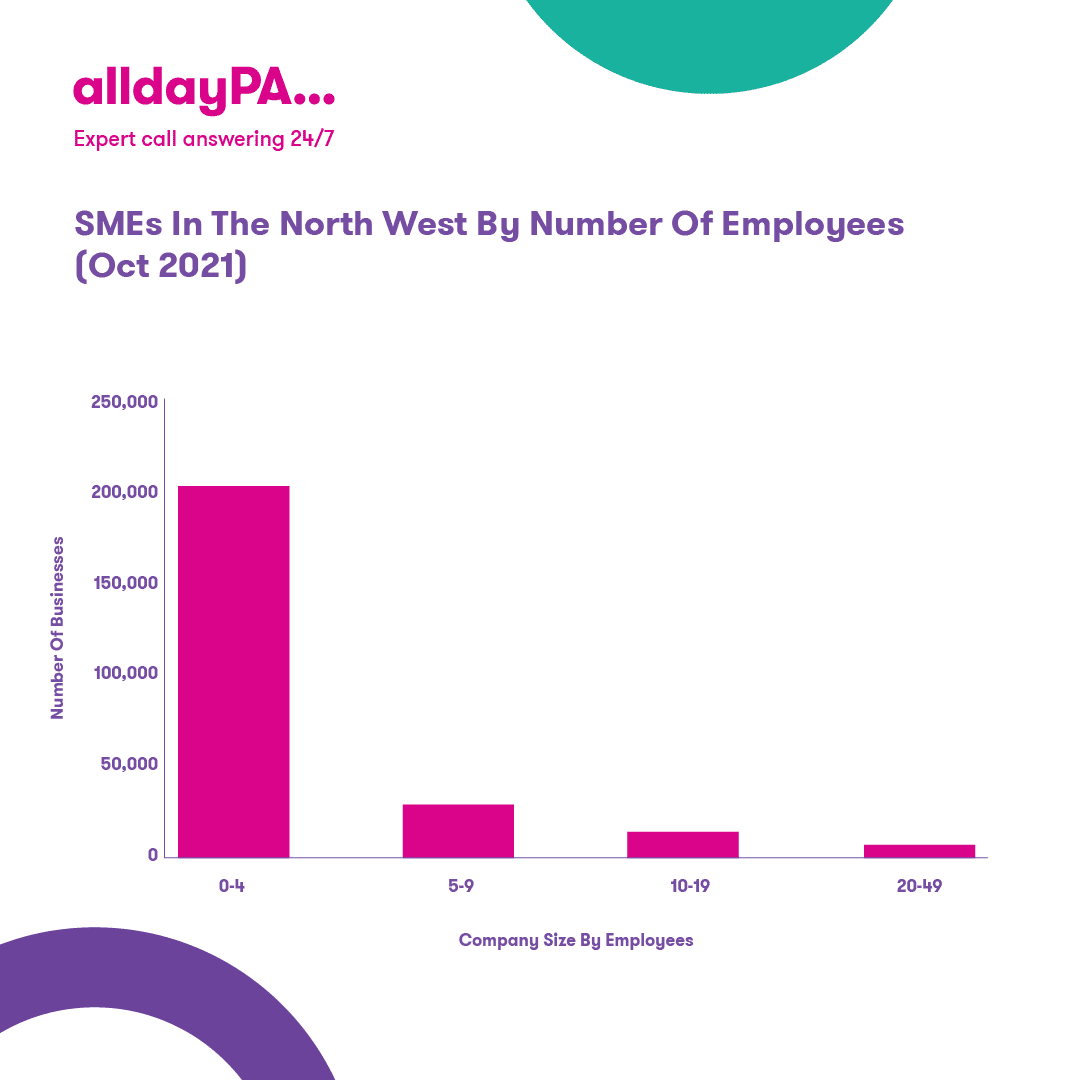 Our data has shown that many businesses in the North West have just 0-4 employees, meaning that a lot of companies will likely be in need of an extra helping hand with their customer service. With flexible packages, you can scale our services to meet your needs. Despite often being called virtual assistants, our services are carried out by real people with no bots or answering machines in sight! Better still, our solutions are cheaper than hiring an in-house receptionist or team but still provide the same benefits. Here's a look at our packages and what they include…
Telephone Answering Service
Call handling
Handling all of your incoming calls can be tricky when you're so busy. However, dealing with your business calls with absolute professionalism should be the norm – it's vital for earning a great reputation, securing loyal customers, and winning prospective customers. Our dedicated team of professionals can take care of your calls for you as part of our most affordable package to ensure that your company is always providing an excellent service!
Message Taking
Sometimes you won't always be available to take every single one of your inbound calls; however, we offer 24/7/365 support as a solution, meaning that one of our personal assistants will always be at the other end of the line. When you aren't available to take telephone calls, our PAs will take the caller's name, their enquiry and their contact number, so that you can get in touch at a convenient time!
Find out more about our phone answering service here.
Virtual Receptionist
Diary management
Whether it's handling appointment bookings, scheduling your meetings, or even just setting general reminders, our PAs can get your diary in order. Organisation and time management are so important for growth, so let us take care of that for you. We'll consult with you to make sure we organise your diary just how you like it – we know everyone has different preferences, so we'll make sure we cater to these.
Call triaging
Call triaging allows your teams to deal with calls based on their urgency and their nature. That way, you can prioritise your calls as necessary. This ensures that all urgent calls are dealt with as quickly as possible. Every triaging process will be different depending on your sector and your business, so we'll make sure that yours is tailored to you.
Remote switchboard
If you're available to take a call when it comes through, our remote switchboard allows us to forward this call to you, or another team member that is well-equipped to deal with the customer's enquiry or issue. We'll get to know your teams and what they all do to make sure that we always forward the call to the right person.
Find out more about our Virtual Receptionist package here.
Outsourced Call Centre
Email management
Keeping on top of emails can be hard when you've got other channels of communication to monitor too. As a part of this package, we can take care of your customer emails with absolute professionalism every single time, thanks to our fabulous customer service skills!
Live chat
Live chats, or web chats as they are also called, provide a quick method of communication for your customers. If they have an enquiry or an issue whilst on your site, they can immediately get in touch with you. However, customers using a live chat service will expect a prompt response, and that's where we come in. By allowing us to monitor your live chat, you can make sure all customers receive a response on your live chat promptly and professionally.
Social media enquiry management
Social media isn't just for posting pictures and staying in touch with others, it's now a crucial part of customer service, marketing, and general business operations. Here at alldayPA, we can take care of your incoming social media messages, ensuring that all customers are given the answers, support, or solutions that they need when they message your company.
CRM integration
To ensure that we seamlessly integrate with your team, we'll connect your CRM with our systems. This may include your live chat, emails, social media and phone systems, but ultimately it gives us, and you, a better insight into your customer's journeys.
Find out more about our Outsourced Call Centre package here.
Tips for small businesses: how to maximise growth
Know your target audience
Understanding your customer's needs, and therefore why they would invest in a product or service like yours, is crucial. Asking questions like 'what problems do my target audience face?', 'do they belong to specific demographics?', and then 'how can I help my audience to overcome this problem and meet their needs?'. By personalising your service and gathering feedback, you can gain a good understanding of your target customers. Needs change over time too, so it's important to make an effort to always further this understanding. This can help you to seek new opportunities in terms of product/service development and growth.
Invest in your marketing
To grow, you need to get in front of the right people whilst increasing your visibility and online presence. Your business type and your service or products will likely determine the marketing channels you should utilise – after all, there's email marketing, social media, PPC, and organic search. Talking to professionals in this industry will help you to decide what you need. As well as this, you may wish to talk to fellow business owners about how they scaled their business by maximising the use of marketing.
Network
Seeking advice and information from those that were once in your position is always useful. Networking is a great way to meet fellow business owners who can help – not only can they give you advice about growing your business, but they may also offer services that could be of use to you. Social media, networking groups and dedicated events are all great ways to meet similar people. It's a chance to ask questions, as well as to learn more about what lies ahead for you and what you may need to overcome. Starting a business isn't without its challenges, but having a good idea about what to expect can help you to mitigate these issues.
Focus on development
Your business is only as good as your team! The people that represent your business will play a crucial role in its growth, so it's important that their skills are top-notch to carry you forward. As such, you should ensure that your focus is not only on the development of your business but also on the development of your team too. To do this, you should invest in training and take the time to learn about your team members and where they think they need to improve.
Offer amazing customer service
To grow, you need to earn a good reputation. To do this, you've got to impress your customers and create a lasting impression with amazing customer service. By doing so, your customers are more likely to keep coming back, and they might also recommend your business to others too. This is one of the key ways to create more custom – both with new customers and also thanks to customer loyalty – and therefore keep growing as a business.
Ready to boost your business growth? Get in touch with us today
Clearly, business is booming in the North West, and we're passionate about playing our part in the growth of companies within the region and beyond. Here on our website, you can find out more about our packages and request a bespoke quote. If you're ready to get started with us, our team would love to hear from you. You can get in touch by calling us any time between 9am and 6pm on weekdays, for support.