The 15 Point Checklist on How to Handle Difficult Callers
Working in customer service is extremely rewarding – helping customers to get the information, service, or help that they need is always an amazing feeling! However, an inevitable part of working in customer service is that, occasionally, you will be faced with a difficult caller. Knowing how to handle a difficult caller is essential – it might just save your reputation, prevent negative reviews, and preserve your levels of customer retention and loyalty.
Here at alldayPA, we're experts when it comes to customer service and helping businesses to handle their incoming calls. We always like to be generous with our knowledge which is exactly why we've created this guide. Here, we'll be sharing our top tips and tricks so that you're well equipped to deal with difficult customer calls, before telling you about how we can assist your business with calls and other customer interactions!
What is a difficult caller?
Difficult callers can come in all forms – what you consider to be a difficult caller might differ from what another business would define as one. Ultimately though, when faced with difficult callers, teams can feel overwhelmed or challenged. Customer service skills are always important, but these scenarios highlight just how vital they are. Difficult callers might be unhappy customers or upset customers, or they might shout or make demands, especially if they're an angry caller. In this situation, the tone of voice of the caller can be particularly off-putting. When faced with a caller that raises their voice or even resorts to giving verbal abuse, it can really knock the confidence of the customer service agent that's on the line, especially if they're new to the role. That's why it's important to be prepared and to know exactly how to deal with these types of calls!
Whilst callers can be difficult for a range of different reasons, this blog focuses on dealing with difficult callers that are unhappy about something – this might be the delivery of a service, the performance of a product, or the way that an ongoing issue or enquiry is being handled. So, let's get to it!
How to handle difficult callers
Complaint handling and customer service training
When you employ new staff, and before they even get the chance to interact with difficult customers, you should invest in comprehensive customer service training. Of course, you might hire people with experience in customer service, but it's important to make sure that they handle calls, and especially complaints, to your standards. This is vital to keep your business growing and to earn a good reputation. Good customer service training will also encompass complaint handling and may even focus on developing conflict management skills – it's important to prepare your customer service team for handling complaints and difficult customer situations as these can often be overwhelming, challenging, and can lead to further problems. Ensuring they're well equipped will go a long way!
When you're dealing with difficult customers, you should limit your distractions so that you can give them your undivided attention. Even though callers can't see you, they will still be able to tell if you're distracted and aren't concentrating on them, their concerns, and their needs. By avoiding distractions and giving them your full attention, you can minimise the risk of miscommunication, which can lead to further problems down the line. You'll gain a full understanding of what they require, and you'll recognise when to ask for clarification if it's needed.
If you're dealing with an irate customer or someone that's frustrated, then interrupting them is only going to make things worse! To stay on the right side of the customer, it's important that you practice active listening and don't interrupt. You might need to ask questions as they're talking, but make sure you ask these at an appropriate time, ideally when there's a pause. If needed, you could always make a note – physically or mentally – of the questions that you need to ask, and then come back to them later when the opportunity arises.
Remember that the customer is human too
When faced with rude customers, it's often hard to keep in mind that they are human too. Away from your conversation and their enquiry or concern, they could have other problems going on – after all, everyone has a bad day. They might have things going on at home or at work, or they might have financial problems to worry about. Of course, this doesn't necessarily make it any easier to handle them, especially if they're being rude. However, this shift in perspective can help you to keep calm and remain empathetic on difficult calls, which is a really important customer service skill.
Ask questions to learn more, but tell the caller from the start that you will be doing this
To avoid any misunderstandings and to make sure you have the clearest understanding of the customer's enquiry, you should ask questions to learn more about their issue or situation. From the start though, make the customer aware that you will be asking questions to gain a better understanding of why they've called – at least then they know what to expect throughout the call/conversation, and it will prevent them from getting frustrated with you for asking the questions. Above all, don't be afraid to ask – it's better that you have a solid understanding of the customer's expectations and their issue so that you can find an acceptable solution.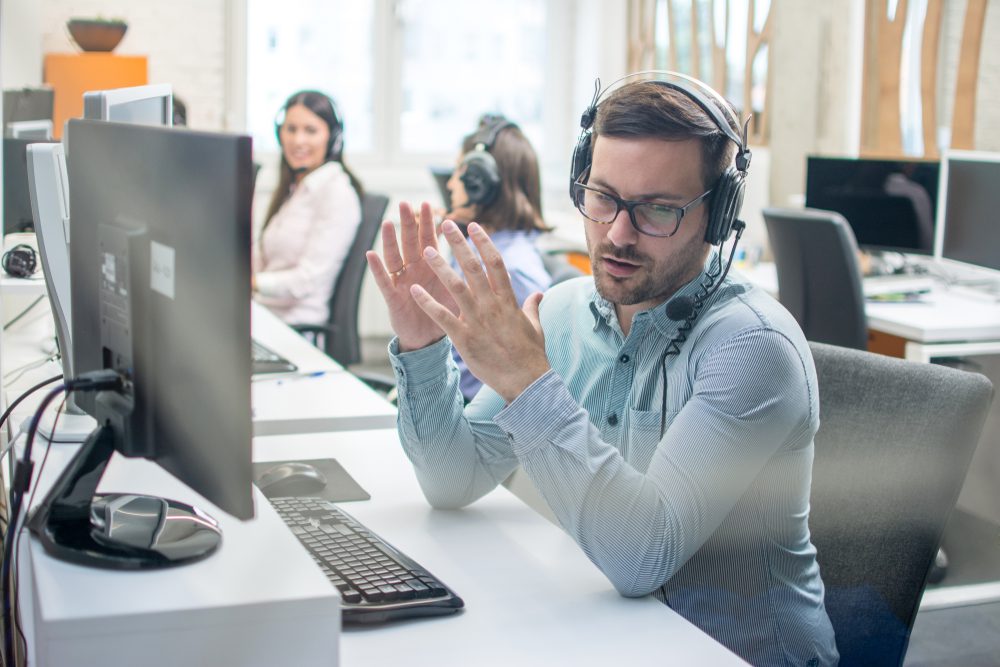 Don't just assume – ask for clarification. Make sure that you fully understand their concerns as this will help you to understand their feelings
As well as asking questions about their issues, you should also ask for clarification whenever you aren't sure what the customer means, or even what they want the outcome to be. If you're dealing with an angry customer, they can sometimes speak rather quickly and in a manner that isn't easy to understand. As the call progresses, be sure to identify any gaps in your knowledge about their case, and then ask any questions for clarification once they have finished telling you about why they rang.
Avoid an emotional reaction – be pleasant and professional at all times
If a customer is being difficult, they may take an angry tone with you, and they may seem very frustrated. However, it's important to remember that you shouldn't take this personally, and therefore you should always avoid an emotional reaction. Instead, take a deep breath, remain calm, and be pleasant and professional! It can be difficult sometimes, but it's the best way to take control of the situation. Often, it will set the tone for the remainder of the conversation, and the customer may calm down.
Offer an apology and validate their feelings
When on the call, show some emotional validation. This involves understanding and accepting the person's feelings. A lot of this is down to being empathetic – try to establish why the caller feels the way that they do. Then, offer an apology for the issue, and reassure the customer that you will do everything you possibly can to address the issue and find an appropriate solution.
Sometimes, quick solutions and easy fixes aren't always possible depending on the nature of your business and your service offering. It's important to be open and honest with the customer – don't overpromise! If anything, underpromise and overdeliver. Whilst being honest is important, this shouldn't send them into a panic. Tell them that you will be doing everything that you can to address the issue, and this should reassure them that you are handling their enquiry as a priority.
State the next steps clearly
Regardless of what the next steps in the process are – whether that's putting them through to another team, going away to investigate, following up via email, or even putting an instant solution in place – you should always be really clear with the caller. Let them know what you're going to do next, what the likely outcome will be, and how this is going to help them in the situation that they're in.
Be proactive and work as quickly as possible to find a solution
With a difficult customer on the other end of the line, it's likely that they want a solution and they want it quickly. With that in mind, you should take a proactive approach to solve the problem, and you should remain focused on finding a solution. Sometimes though, this isn't always possible and depending on the nature of their issue, your business, and your offering, finding a solution might take time. In this case, be transparent with the customer and remain communicative with them throughout the process – update them on your progress and reassure them of what you're doing to help.
Avoid putting the caller on hold
Of course, sometimes putting the caller on hold can't be avoided, especially if they need to be forwarded to another team that are best equipped to handle their enquiry. However, you should do everything that you can to avoid putting the caller on hold – doing so could make their anger or frustrations worse. If you have to transfer them across to another team, try your best to do this whilst they are still on the line. If you do have to put them on hold as the last resort, then let them know and apologise for the inconvenience to try and keep them calm.
Offer multiple solutions and provide the caller with a choice
When it comes to finding a solution, there might be multiple options you could use. If that's the case, present these different options to the customer, and be honest and transparent with them about the options and what these entail. Clearly state what they are, and how they will address the issue that the customer currently has. Giving the customer a choice ensures that they have some control over how the situation is resolved, and this maximises the chance of them being happy with the outcome of the call.
If a customer is annoyed with something that you and your business have done, or even something that you haven't done, then compensating them for their poor experience is likely to receive a positive response, even if they don't directly show it. A lot of customers will appreciate being compensated in the form of a free product or service, a discount, a partial refund, or a full refund – you may have a company policy in place for dealing with complaints and compensating customers, so you know exactly what you're allowed to give away.
Give them your contact information incase they need to call again
If you've built a good rapport and relationship with the customer by the end of the call, it's likely that you've established some trust. As such, if the caller has any further issues or wants to check in on the progress of their enquiry/case, it's likely that they will want to speak to you again. As well as this, many customers prefer to speak to the same person again, as they already know about the customer's issues without having to go through it all again with a new agent. So, giving the caller your details incase they need to ring back will always go down well.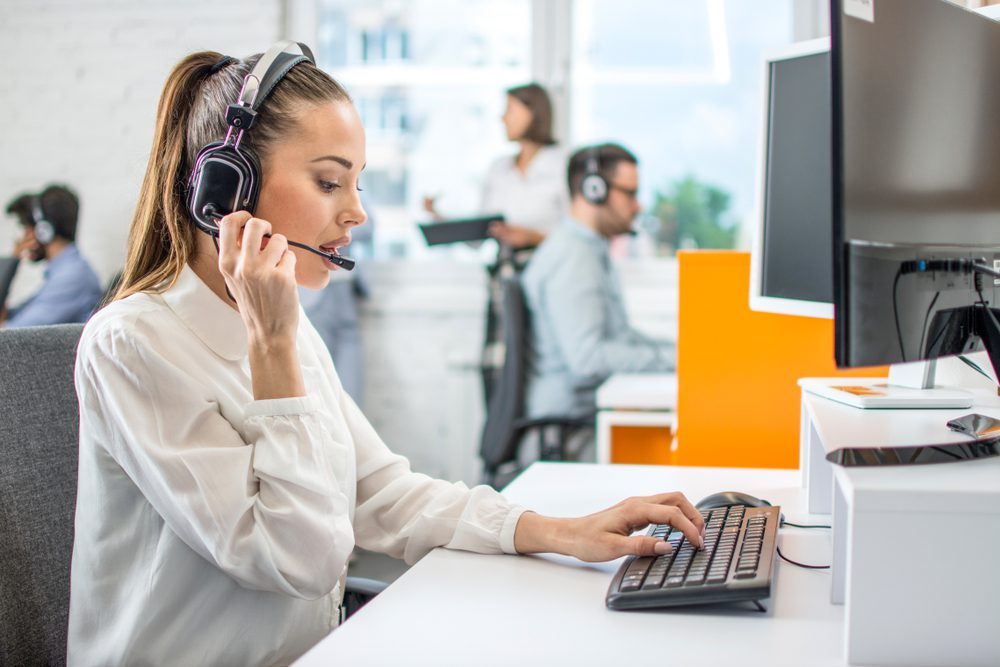 How alldayPA can help you to handle your calls
Of course, you can use all of our tips and tricks above to train your teams, but you might want to opt for a much easier and cost-effective alternative by using our services. Here at alldayPA, we offer a range of packages to help businesses deal with all kinds of customer interactions from calls, to emails, live chat messages and even social media enquiries!
If you need a helping hand with just your incoming calls, then our Telephone Answering package is likely to be the ideal solution for you. Our PAs will handle every single one of your incoming calls around the clock, as part of our 24/7 service 365 days a year! We'll pass the call onto you if you're available to take it, but if not, then we'll take the caller's details and pass these onto you. This solution can leave you with more free time to deal with other business matters, it can save you money on personnel costs, and it means that your customer enquiries are handled by experts!
If you're in need of assistance that goes beyond basic telephone answering, then be sure to check out our Virtual Receptionist package which also includes call triaging, remote switchboard services, diary management, and more! For an ever more comprehensive package, take a look at our Outsourced Call Centre package which includes CRM integration as well as live chat, social media and email management!
Need a hand with your incoming calls? Get in touch or get a quote today!
Evidently, knowing how to handle a difficult customer call can go a long way. Infact, we'd say it's one of the most vital customer service skills you can have! As such, when a difficult caller rings, you want to know that they're in safe hands. Training your teams can help with this, but it can come at a cost. As well as this, you might lack the manpower to deal with your incoming callers, meaning that quality could be compromised. The latter can make a bad situation even worse!
With all that in mind, you may want to opt for a cost-effective solution in the form of our packages. If you're interested in the Telephone Answering package or any of our other packages and additional services, then you can get a quote here! If you'd prefer to speak to a member of our team, then give us a call any time between 8am and 6pm Monday-Friday to find out more.