The best cities for plumbers and electricians to work in the UK, revealed!
With the number of people "doing up" their homes rising significantly over the course of the pandemic, plumbers, electricians and trades of all kinds have seen a boom in business in recent months! With this in mind, at alldayPA we wanted to help support these businesses and tradespeople through this busy period, and have been doing some research into the sector. We've found the top 10 cities in the UK to work as a tradesperson, based on salary, demand and population.

Our data shows that the top 10 cities for plumbers and electricians to work in the UK, in order, are:
1. London
2. Birmingham
3. Glasgow
4. Bristol
5. Edinburgh
6. Nottingham
7. Cardiff
8. Manchester
9. Liverpool
10. Leeds
Nationwide, we've found that salaries for plumbers and electricians have risen over the last 10 years, from £34,655 for electricians in 2010 to £42,450 in 2020, and from £26,275 for plumbers in 2010 to £34,053 in 2020. The fact that people are spending their days working from home also means that their homes are being used more, resulting in an increased rate of regular wear and tear, and therefore an increased number of emergency callouts for plumbers and electricians. The rise in interest around home improvements over the last 18 months or so, sparked by the number of people spending more time at home, as well as people generally having more free time and less to spend their money on during the COVID-19 lockdowns, has also led to a rise in business for tradespeople nationwide, with many reporting that business is booming!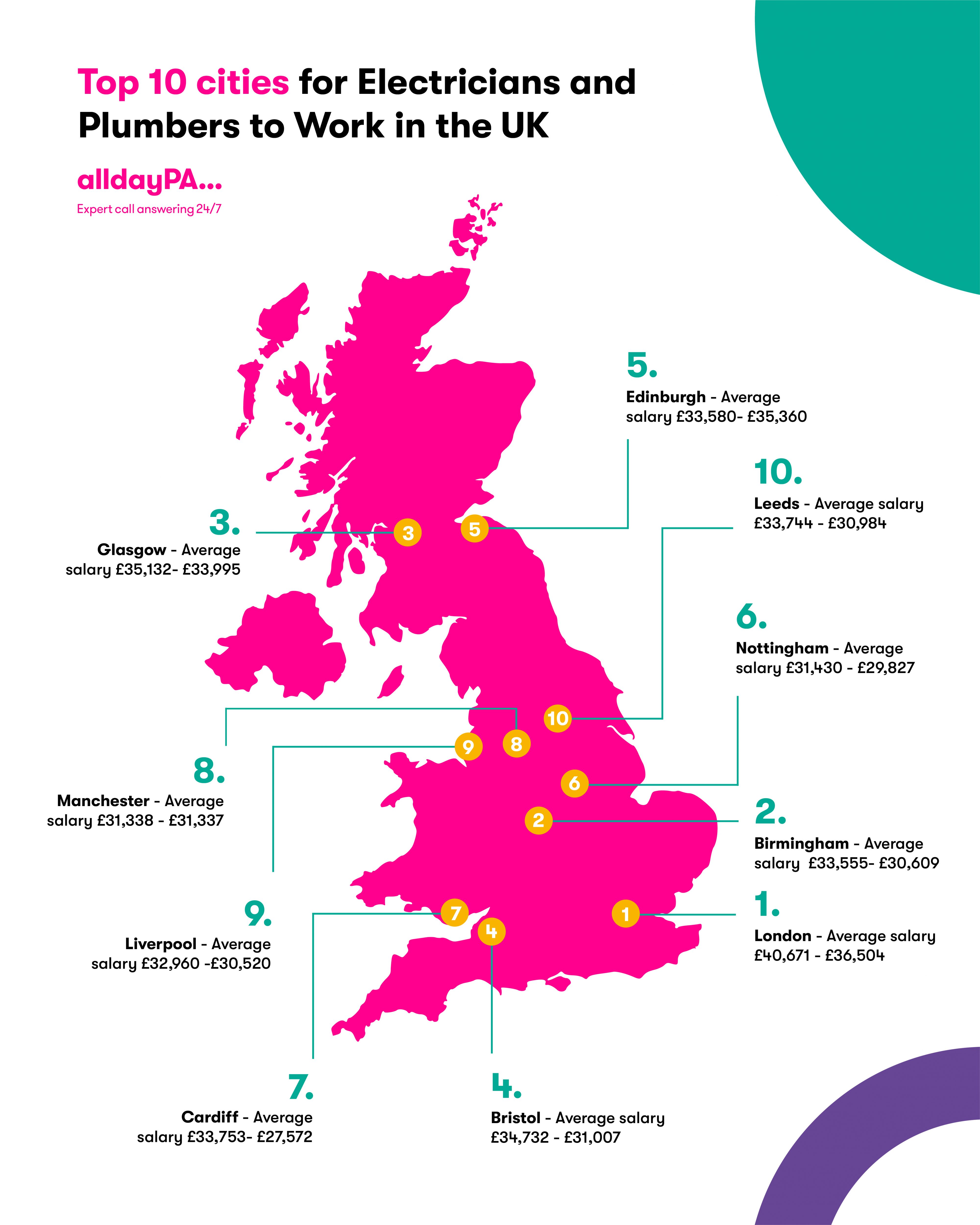 alldayPA's top 10 cities for plumbers and electricians in the UK
In our research, we've taken into account a range of different factors, including the amount of work that's available to plumbers and electricians in these cities by population and by search volume, as well as the average salary of workers in these areas to determine the best places for tradespeople to work, or to relocate to if they are considering a move!
1. London
London comes out on top of our list, as, unsurprisingly, the volume of work available there and the number of searches in the area are exponentially higher than in any other city in the UK. Despite the high cost of living in the capital, the sheer volume of work and demand for plumbers and electricians means that the average salary in London is also considerably higher than elsewhere in the UK. This high volume of traffic and demand also means that demand for trade services is likely to be more consistent throughout the year, so there's a much smaller risk for small businesses and sole traders in this industry being caught in a quiet period for months at a time in the capital.
The average salary for an electrician in London is £40,671, while for plumbers it sits at £36,504, which is the highest in the country. With the average salary for all Londoners sitting at £40,777, tradespeople in London are sitting at just below the regional average salary. However, as there is such a massive amount of work available in London, as evidenced by the more than 50,000 searches for tradespeople and emergency repairs every month, there is also potential for plumbers and electricians to maximise their earnings considerably.
As well as searches for London-based tradespeople, Londoners also searched more specifically, with areas including Clapham, Ilford and Chiswick making it into the top searches for tradespeople in London.
2. Birmingham
The UK's second-largest city, Birmingham is also popular for plumbers and electricians, with a large population and over 20,000 searches per month for electric and plumbing services. Unlike some cities, the searches made by Brummies are quite general, looking for "plumbers near me", "local plumbing" and "heating and plumbing". There were also searches for electrical contractors, mobile electricians and private electricians in the local area, which are searches we didn't find in all of our other top 10 locations.
3. Glasgow
With a population of just over 630,000, Glasgow is actually one of the smaller cities on our list, and certainly bucks the trend of populous London and Birmingham! Scotland's largest city saw 15,400 searches per month for a range of different issues – popular searches included emergency and 24-hour plumbers, as well as local plumbers, and plumbers specifically in the West End.
When it comes to searches for electricians in Glasgow, there seem to be fewer emergencies, and instead more searches for reliable, qualified and affordable electricians, with popular searches including "find licensed electricians near me" and "reasonably priced electricians near me". While Glasgow is considerably smaller than Birmingham, the average salaries for plumbers and electricians are actually a little higher – at £35,132 for electricians and £33,995 for plumbers.
4. Bristol
Another smaller city in the top five cities to work as a plumber or electrician in the UK, Bristol has a total of over 14,000 searches for electricians and plumbers every month. For a city with a population of just under 500,000, there is a lot of traffic and demand for experienced tradespeople. Tradespeople also have average salaries of £34,732 and £31,007 for electricians and plumbers respectively. Emergency searches and callouts were high on the list of priorities in Bristol, with searches like "electrician near me emergency", plumber near me emergency", "emergency plumber in Bristol", and "I need a plumber now near me" all featuring among the top searches in the area.
5. Edinburgh
Edinburgh is one of only two cities in our top 10 where plumbers out-earn electricians. Interestingly, of the two Scottish cities to make the top 10, plumbers in Edinburgh and electricians in Glasgow had similar salaries (around 35k each), as did electricians in Edinburgh and plumbers in Glasgow (around 33k each)! Confusing, right? The population of Edinburgh also searched regularly for 24-hour and emergency plumbers, as well as highly rated registered plumbers, and top-rated electricians as well, implying that Edinburgh residents are willing to pay extra for high-quality tradespeople.
6. Nottingham
One of Nottingham's top searches when it comes to looking for plumbers is actually "plumbers merchants", which may tell us one of a few things – that people in Nottingham are keen on doing their own repairs, or that there are plenty of plumbers, and therefore increased competition, in the region. The average salary for a Nottingham electrician stands £31,430, while for a plumber it's £29,827, which is lower than other cities on our list, however, when compared to the population and volume of work available, as well as the lower cost of living in Nottingham compared to larger cities and the south-east, it generally balances out.
7. Cardiff
Cardiff has the biggest disparity between plumber's and electrician's salaries, with electricians earning an average of £6,181 more every year than plumbers in the same area. As a result, the earnings for plumbers in Cardiff are lower than any other city in the top 10, while electrician's earnings are average for our top 10.
8. Manchester
Manchester had the smallest salary difference between the two trades, with electricians earning £31,338, and plumbers earning £31,337 – a difference of only £1 on average! Compared to areas like Cardiff and London, where the wage disparity can be £4000-£6000 larger, it's clear that plumbers in Manchester are in a strong industry overall.
9. Liverpool
Liverpool searches for plumbers and electricians were a little more specific than in some other areas, with searches for "sink plumber" and "plumber for blocked toilet near me", as well as the more general searches that we saw nationwide. It was the same story for searches targeting electricians, with searches like "light electrician near me" and "electrical rewiring near me". As well as these, we also saw searches targeting "expert", "independent", "reliable", and "best rated" tradespeople in Liverpool. The average salary for an electrician working in Liverpool is £32,960, while the average salary for plumbers is £30,520, which puts Liverpool firmly in the middle of our top 10 for earnings across the country.
10. Leeds
Leeds was the other of only two cities where plumbers out-earned electricians, bucking local and national trends. For a plumber working in Leeds, the average salary is £33,744, which is only out-earned by their counterparts in London and Edinburgh, two notoriously more expensive cities to live in. Electricians in Leeds, however, are the lowest paid, on average, of our top 10, with an average salary of £30,984, which is almost £10,000 less than electricians in London. Of course, the lower cost of living in the North makes a considerable difference to how far your money goes.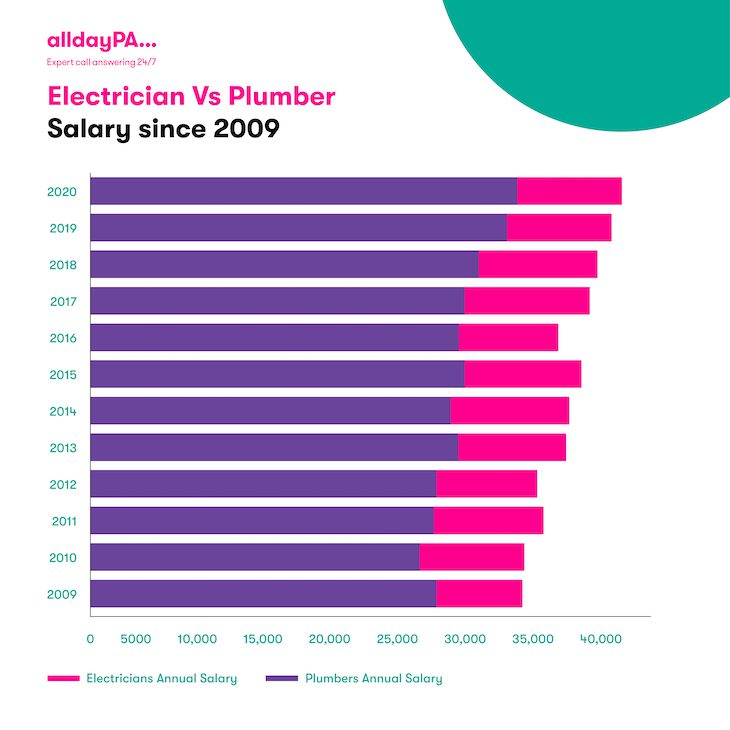 How alldayPA helps customers in the trade industries
When the phone is ringing off the hook, our customers have chosen to work with alldayPA to help take the burden of call answering and customer service off their hands. We offer tailor-made bespoke solutions to help you stay on top of your customer communications, no matter what industry you're in. As well as answering telephone calls that come your way, we can also provide support for answering social media enquiries and a variety of other channels, to make sure you never lose out on another job, no matter where in the country you're based.
Our team answers every single call that comes our way with professionalism, politeness and intelligence, so you can feel confident that your customer service will be taken care of by professional call centre specialists who understand both the needs of small businesses in general, and the needs of tradespeople in particular. We work with over 24,000 small businesses, and so we have an in-depth knowledge of the kind of calls our customers get on a regular basis, and how to handle them best.
The majority of plumbers and electricians in the UK are self-employed sole traders or work within a very small team, which means that when you're on a job, there isn't anywhere for your calls to go, resulting in missed calls and missed business. Particularly in small local areas or cities with considerable competition from other small businesses, being able to answer all of your business calls and enquiries is so important, but it's just not practical a lot of the time. That's where the team at alldayPA come in – we help you to offer an elite customer experience without adding to your existing workload. That means that whether you're on a job, in the middle of a conversation with other customers, or even if you're just taking a break and setting some boundaries for yourself, you can rest assured that our expert team will be on hand to pick up communication with customers on your behalf. The majority of our core customer base is made up of SMEs, sole traders and self-employed workers, and we're passionate about developing and supporting small business owners to grow their organisations and make the most of the opportunities that come their way.
alldayPA founder Reuben Singh also talks about how and why helping new businesses and small businesses is so important to us here at alldayPA:
"At a time when there are record numbers of new businesses starting up, we're there to support them. We provide on-demand customer service support at a time when a newly established business like a plumber or electrician needs to focus on what they do best – helping their customers and generating the cash that they need to thrive. Our insight shows where the highest demand for their services could be, our virtual services allow them to be present wherever and whenever they are needed. At alldayPA we're passionate about supporting entrepreneurs and SMEs whether it's providing vital customer support or valuable advice and insight to help their business grow."
To find out more about our research, or how we can help support your business during your busiest periods, please don't hesitate to get in touch with our business development team, who will be happy to help design a bespoke call answering and outsourced customer service package that works for you and your business.