The Northern Powerhouse shows the way when it comes to business startups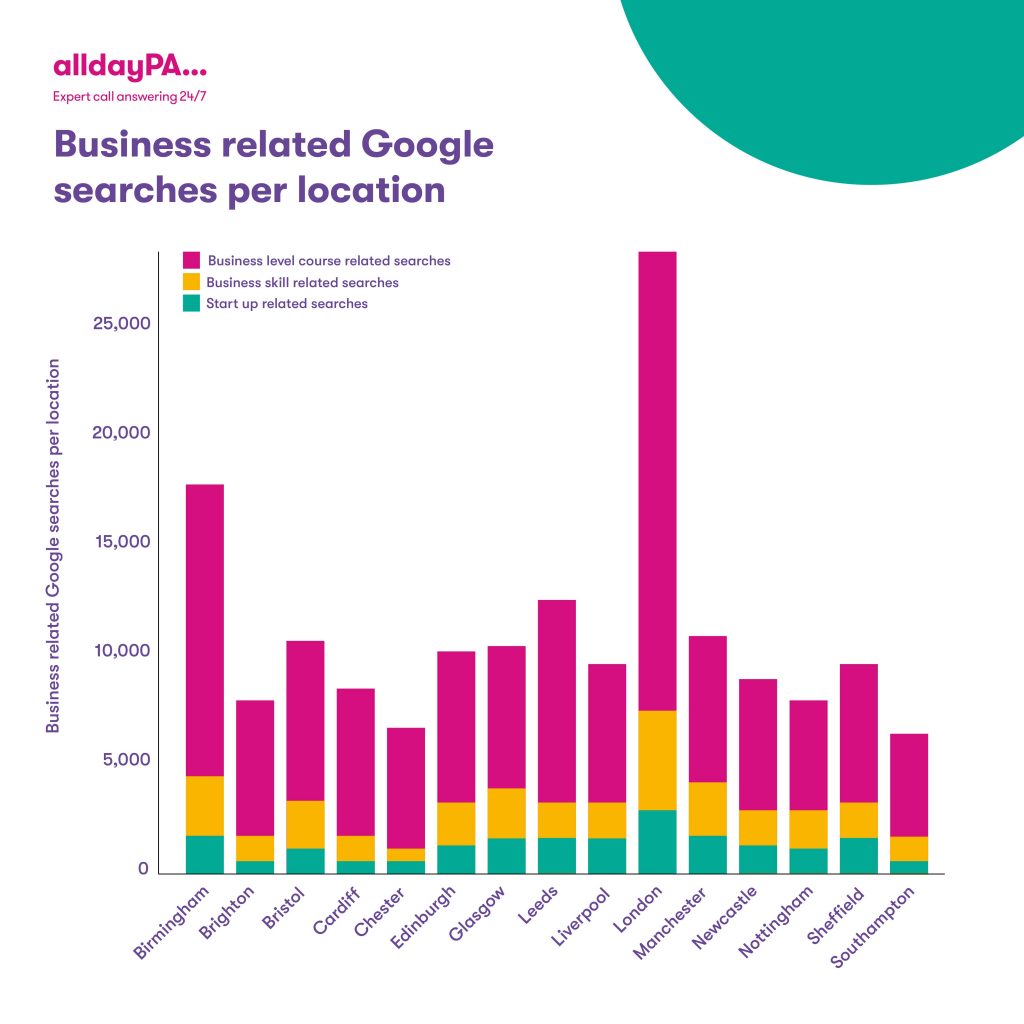 When the COVID-19 pandemic hit, back in 2020, many people were faced with furlough and, as a result, much more spare time on their hands. For some, this time allowed them to put their business ideas into practice, take the leap, and start a small business. The latest figures given by the government reveal that the total register size for businesses in the UK was over 4.7 million. As for 2020 and the year of the pandemic, a record number of 770,000 new businesses were created! Whilst mail-order businesses were the most popular start-ups, other common ventures included buying and selling property and takeaway businesses. The same research also suggests that Leicester had the greatest rise in new enterprises – for every 100 people in the city, there were 1.68 new businesses founded. This is certainly an interesting finding considering that Leicester was subject to COVID-19 restrictions for a much longer time than some other major UK cities.
To analyse how these aspiring entrepreneurs kickstarted their business, our data experts assessed search volumes, across different UK cities, for queries regarding starting a business or developing the skills to do so. To mitigate the impact of London and other highly populated areas, we presented our findings as ratios to show how many people from the city's population (data taken from worldpopulationreview.com) were making these searches.
With this data, we looked at which UK city conducted these searches most frequently. We analysed search volumes around queries relating to how to start a business, what skills are required, and what courses or further education is out there for those that want to be an entrepreneur.
Our findings suggest that whilst, inevitably, there are more searches taking place in London due to the size of the population, many cities across the UK clearly have a significant amount of aspiring entrepreneurs with places like Chester, Leeds and Sheffield also coming out on top! The North of England appears to be subject to the quickest growth – it won't be long before it's the business powerhouse of the UK!
The rise in Britons wanting to become entrepreneurs
As part of our research, we collected data to show the search volume for phrases directly related to becoming an entrepreneur or starting a business. Using Google Keyword Planner to collect this data, we first collected information regarding the search volume for the following long-tail keywords:
How to become an entrepreneur
How to start a small business
How to start up an SME
This was also broken down into the search volume per location. Once we used these long-tail keywords in Google Keyword Planner, the tool then suggested similar phrases and keywords that are also searched for online. We then collected this information and combined it with the data we had collected regarding the first three original keywords we used in our data collection.
Then, we converted our findings into ratios to show how many times more likely these people were to search for information about starting a business. Here are the results regarding how likely it is that a person, in different UK cities, will make a search on Google relating to starting a business or becoming an entrepreneur: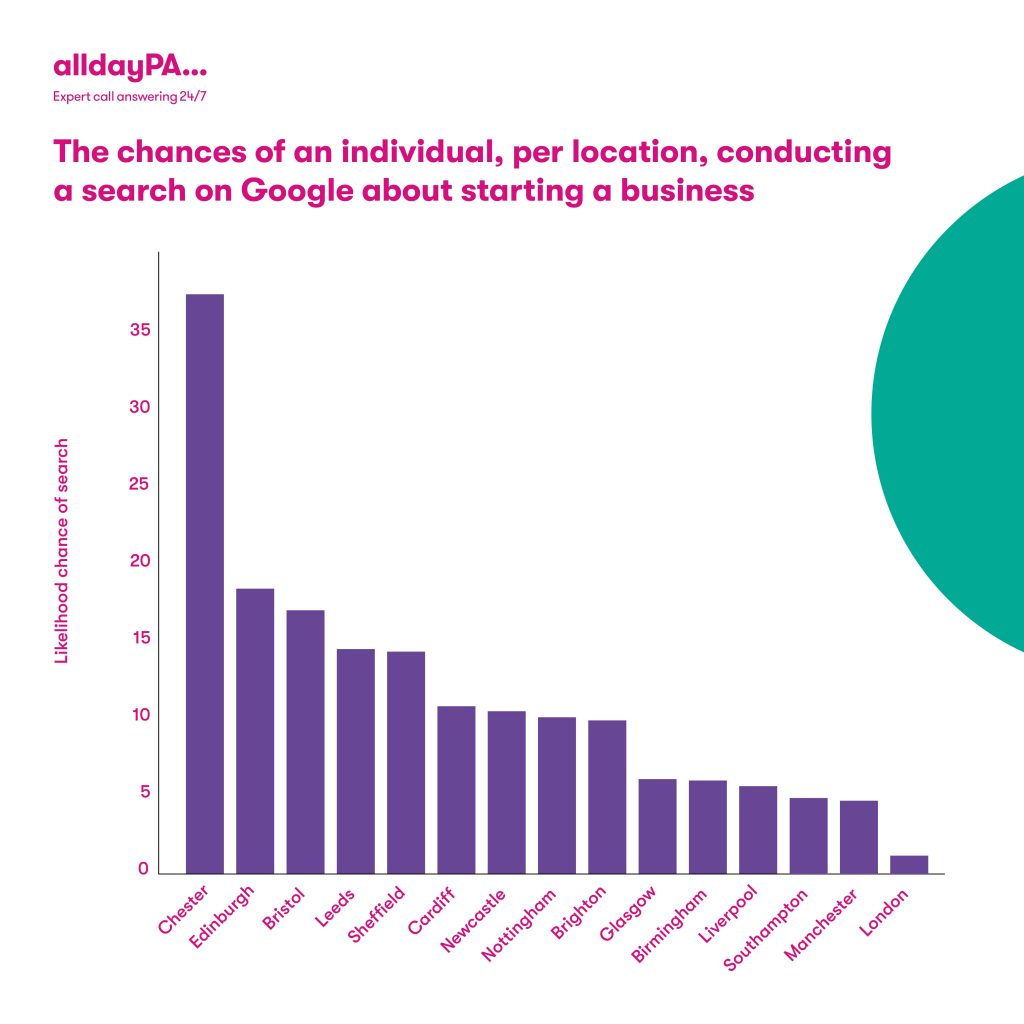 People in London would've searched for these business-related queries the most due to the population size. But, when converted into a ratio, our findings suggest that there are many other cities within the UK – especially across the North – that have a significant number of aspiring entrepreneurs. Northern cities like Chester (51 times more likely), Leeds (15 times more likely) and Newcastle (11 times more likely) have many budding business people amongst their population!
In contrast, people in London are only twice as likely to make one of these searches. Whilst this could be mainly due to the population size, there's no denying that – when it comes to entrepreneurship – it's quite possible that northern cities are leading the way!
These cities have a wealth of resources for future entrepreneurs to take advantage of, whether that's educational institutions that offer business courses or even recent investments into the business sector within these cities. As we continue to build and invest in a Northern Powerhouse (PDF) here in the UK, it will certainly be interesting to see if the search volumes increase over the coming months and years – it seems like the North is a great place to start a business too, just like our capital city.
Developing the relevant skills to become a business owner
Of course, when it comes to starting a business or becoming a CEO or Manager, you've got to have the right skills. There is also a great emphasis on providing amazing customer service as a business, therefore requiring the right customer service skills. This is something that is clearly recognised by budding entrepreneurs, as search queries regarding customer service skills have significant search volumes.
To understand the research that aspiring business owners were carrying out, our data experts used Google Keywords Planner again to compile a new set of data. This set of data showed the search volume for each location, for the following search terms:
'What skills do you need to set up a small business'
'What skills are needed for customer service'
'What skills do you need to become a Manager/CEO'
As with the previous set of data, we then turned our findings into ratios by using the total population of the city, to show how likely people in each city are to search for information regarding the necessary skills. Here are the results for queries about business skills: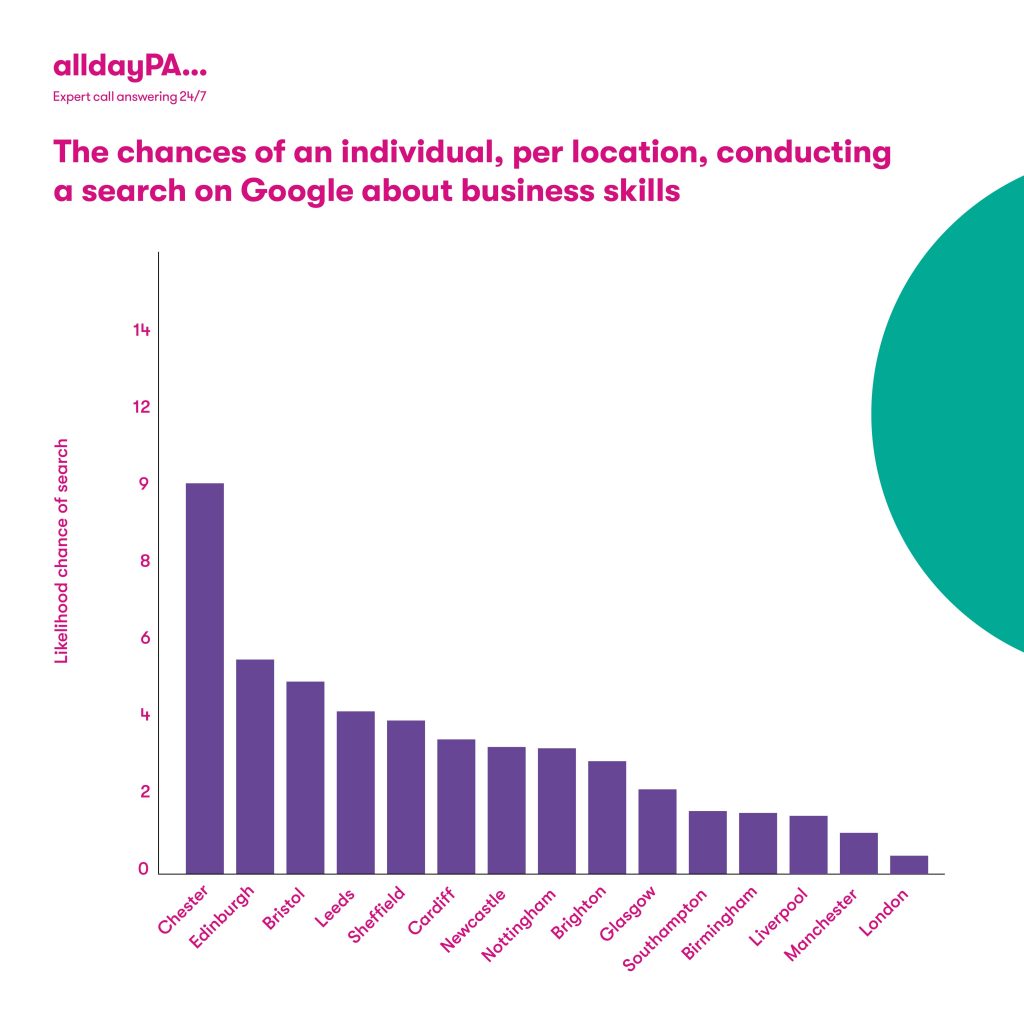 The findings for this part of the data appear to correlate, to a large extent, with the findings regarding search volumes around starting a business and becoming an entrepreneur. It seems that those more likely to make a search about starting a business are also more likely to make a search about the skills that are required. In terms of the volume of search terms more generally, London has the highest number of searches for terms that relate to starting a business, and it also has the highest number of searches for queries about business-related skills too. Again, this is largely to be expected due to the population of the city.
However, in terms of how likely people are to make these searches, Chester, Edinburgh, Bristol, Leeds and Sheffield all come out on top! Even across the board, the likelihood of an individual in each city making a search about business skills is still rather high suggesting that, across the nation, there are plenty of people out there looking to further their skills and knowledge! Even further down the list, cities such as Cardiff, Newcastle and Nottingham are all 3 times more likely to make a search about business-related skills.
Whilst London has always been considered the business hub of the UK and even the financial capital of the world by many people, our findings suggest that populations across different cities in the UK do have that drive to be an entrepreneur. As such, many are now choosing to call the North their business home – business owners aren't just looking at London as the place to be. As a Manchester company born and bred, we couldn't be happier to see the North flying the flag for business and innovation! Better still, the North has received recent investments and has been subject to regeneration projects in recent years, meaning that aspiring entrepreneurs in the area now have access to great opportunities.
How many people are researching courses and further education in business?
Any successful business person will put the effort in to expand their knowledge, and this is clearly recognised and appreciated by aspiring entrepreneurs. The search volume around online learning and further education is incredibly high across the board – the population of London were responsible for 279,950 of these searches, whilst other major cities closely followed – the people of Birmingham made these searches 174,200 times, Manchester 104,050 times, and Edinburgh a total of 99,300.
To analyse the searches that the UK population were making about business-related skills and knowledge, our data experts put Google Keywords Planner to good use again, this time to discover the search volumes, per location, about business courses and further education. As such, we gathered data regarding the following search terms:
Short business courses
Online university courses in business/customer service
Online courses in management
Open university courses in business
Again, we turned our findings into ratios to mitigate the impact of the most heavily populated cities, such as London, and to gain a more realistic idea of how many people are searching for these terms in each city. Here are the results of our findings: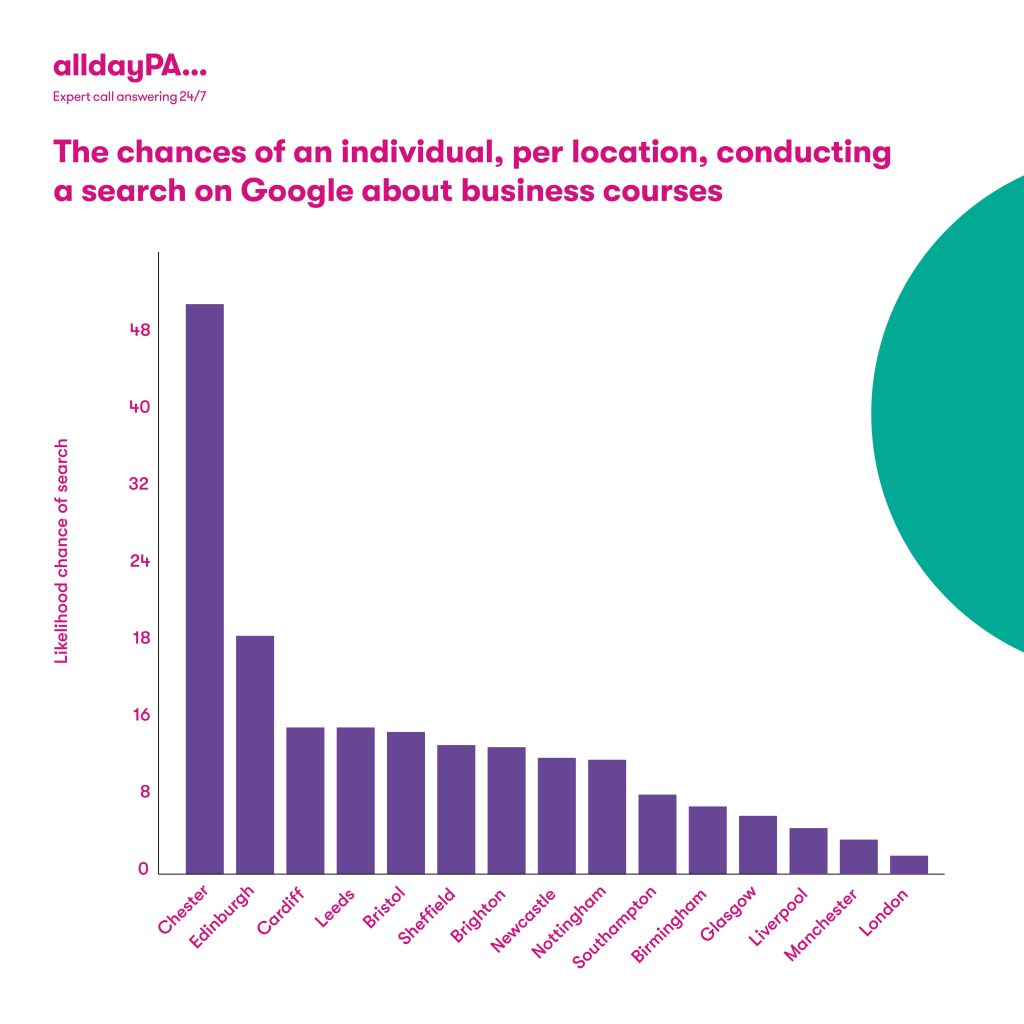 Here in the UK, we're fortunate enough to have access to many opportunities that allow us to expand our business knowledge, whether that's through online learning, degrees or other means. Regardless of the preferred route, our research suggests that many people across Britain want to further their knowledge when it comes to business, probably because they're interested in becoming an entrepreneur and setting up their own business one day. As well as this, many people that were subject to redundancies and furlough throughout the recent coronavirus pandemic were putting their spare time to good use, by developing their skills and furthering their knowledge with the help of online resources. As the furlough scheme ends and many more jobs will be cut, we could even see the demand for business courses continuing to rise!
When analysing the ratios that our data has formed, it's clear to see just how common the desire to gain that all-important business knowledge is. In terms of the likelihood of an individual making these searches, those in Chester are 51 times more likely to make this search meaning that, across the board, people in Chester are much more likely to search for information about starting a business, getting the necessary skills and finding further education. Again, cities coming out on top are Edinburgh, Cardiff, Leeds, Bristol and Sheffield too – these are all somewhere between 12 and 18 times more likely to make this search.
Tips for aspiring or new entrepreneurs
alldayPA has grown considerably over the years – we come from humble beginnings and our CEO, Reuben Singh, dreamed big when it came to entrepreneurship and having a business that provided on-demand customer service support. Fast forward a couple of decades, and we're now one of the UK's leading customer service support companies.
We understand the passion, dedication and commitment required to start a company and grow a successful business. That's exactly why we're always generous with our knowledge, to help aspiring entrepreneurs just like you! Here are some of our top tips for both aspiring and new entrepreneurs:
Believe in yourself
Becoming a successful entrepreneur all starts with self-belief! You have to be confident in your abilities, avoid letting fear get in the way, and channel your passion and your dream into hard work. If you put the effort in, you are more than capable of becoming a successful business person!
Be proactive
It's all well and good wanting to become a successful entrepreneur, but you have to put the work in to make it happen! When it comes to developing your skills and furthering your knowledge, be proactive in your approach. Welcome any new opportunities to learn and grow, as this is crucial for personal growth and business development.
Invest in your development
This investment doesn't have to be your money, your time can be just as effective! There are so many resources available to help you grow your knowledge and succeed, so make sure you take full advantage of these opportunities. The most knowledgeable people will be able to form the best business plans and strategies!
Don't be afraid to ask for support and advice
Whether you're dreaming of starting a business or you've just set one up, there's no denying that there can be a lot to learn and take in. Don't be afraid to ask for advice along the way, whether that's from someone that's been in your shoes, or from the likes of alldayPA, who can help you to manage your customer interactions so you can spend more time growing your business.
Know your customer
To attract leads and to succeed, you need to grow your customer base. To do this, you need to truly understand your target market and the customers you want to attract. Here, it's important to do your research and to know what customers want from their customer service experience. As well as this, you need to be aware of the common issues your target market faces and how your services or products can help them to overcome those.
Build a great team
A business owner is nothing without their team! If you're at the stage where you have the resources to employ staff, make sure that they truly align with your vision and your goals – they need to fit in with the company culture and share the same passion for customer service as you. If you choose to work with us, you can guarantee that our PAs will be just as passionate about your business growth as you are!
How we support start-ups, SMEs, and serial entrepreneurs at alldayPA
Whilst it's important to seek support to get your business off to a flying start, it's never too late to grow your business and perfect your customer service! That's exactly why we support serial entrepreneurs and well-established businesses, as well as start-ups and SMEs.
Here at alldayPA, we provide a range of services for our clients to help them manage their customer interactions with absolute professionalism every time, all the time! With every package, we offer a 24-hour service seven days a week for 365 days of the year, so we've got you covered beyond your business hours. No matter what time your customer base or prospective customers get in touch, there'll always be a real person at the other end to deal with their enquiry.
As well as this, our investments into innovative technology mean that when your customers get through to you, our state-of-the-art call handling technology will assist in creating a fabulous customer experience. It's this technology, coupled with the dedication and the knowledge of our customer service experts, that helps the small businesses we work with to excel!
Now, let's take a look at the packages that can take your business to the next level…
Our Telephone Answering Service Package
We can take care of incoming calls for small businesses and, thanks to our flexible pricing plan, this service can be scaled as your business grows! This package is also ideal if you want to try out our services before choosing a more comprehensive package. As a part of this service, a PA will answer your calls efficiently before taking the key caller details, name, number and message, to forward to you, if you are unable to take the call. As well as this, you'll also reap the benefits of our call forwarding option, instant notifications and our Virtual Office App!
This service is ideal if you want to spend more of your precious time focusing on growing your business – dealing with inbound calls and those unexpected sales calls we're all subject to can take up heaps of time. Yet, with our phone answering service, we can take care of your business calls so you have more time to focus on other things!
Our Virtual Receptionist Package
If you'd benefit from having a company receptionist but can't yet afford an in-house team, then our virtual receptionist services offer all the same benefits but at a much lower cost. Better still, our virtual assistants are available 24/7/365, thanks to our around-the-clock services! As a part of this package, you can enjoy the features of our Telephone Answering package and so much more! Extra features include remote switchboard services, call triaging, on-hold messages and even diary management – whether it's appointment scheduling, meeting bookings or even just appointment reminders, we can take care of your diary for you. So, when you opt for this package, you can stay organised and can deal with your customer interactions that matter most, whenever your customers need support!
Our Outsourced Call Centre Package
Our most premium plan includes all of the above as well as additional services, all of which are delivered with fabulous customer service in mind! By entrusting us with your customer interactions, you can rest assured that our team will keep your levels of client satisfaction high! Providing a customer experience like no other is at the heart of what we do.
With this package, you can enjoy bespoke CRM integration that allows seamless communication. As well as managing your phone calls, we can also manage your emails, web chat and social media enquiries to ensure that customers never go unanswered, and you'll have access to a whole host of white-labelled customer services. When you start a small business, building a strong reputation is crucial, and providing amazing customer service is one of the best ways to keep building it!
alldayPA's Head of Customer Services, Gareth Jeffery, has also commented on our findings and the search volumes, as well as how alldayPA has helped to support SMEs across the country:
"From looking at this data we can see that people have been inspired to launch their own businesses across the country. As a result, people have been able to find new jobs and work in industries in which they can thrive."
"Throughout the pandemic, we have continued to help SMEs manage their customer services 24/7. We monitor phone lines, social media, emails, and web chats at all hours of the day so that customers always have the assistance they need. Our service provides businesses in the retail or e-commerce industry an advantage as we are able to ensure that the customer always comes first."
Here at alldayPA, we can support you no matter where you are on your entrepreneurship journey. Whether you're a start-up, an SME, a serial entrepreneur or an aspiring entrepreneur, we have a range of packages to help you master your customer service whilst you get on with other important business tasks!
To discover more about our research or our services, please get in touch with our friendly team who will be more than happy to assist you! You can get in touch with us by calling between 8am-6pm on weekdays. 
Data Sources
The data was collected by Google Keyword Planner using these search phrases and by changing the target location to each city listed:
How to become an entrepreneur
How to start up a small business
How to start up an SME
Google Keyword Planner suggests new keywords based on the use of similar phrases and returns new volumes for each location.