What is Omnichannel Customer Experience?
In today's world, customers expect more from their customer service experience than ever before, and for good reason! As shopping for goods and services becomes increasingly competitive (and often increasingly complex), having good customer service builds a strong relationship between brands and their customers, resulting in increased customer loyalty, and increased performance and profits as a result.
An Omnichannel customer experience is a way for organisations to integrate platforms and services into a streamlined form that makes sense for the user, offers improved customer satisfaction, and increases efficiency and conversions.
The omnichannel experience: what is it?
In simple terms, an omnichannel user experience is one that utilises multiple different channels for users to take advantage of but also integrates those channels. Businesses using an omnichannel UX will have an integrated presence on many different platforms and using many different marketing techniques, such as:
A company website
A custom-built app for mobiles or tablets, often using push notifications to draw users back at key periods
Email marketing, including automated emails
In-person advertising and brick-and-mortar stores
Social media profiles and social media advertising
Using mailers and flyers
Live chat support on a company website
Phone and social media support for customers
Email support for customers
Using some, or all of these channels does not automatically make an omnichannel user journey, however. Each of these platforms must be seamlessly integrated with each other, pushing users along the customer journey as a single, cohesive strategy, rather than having different strategies for different channels.
The benefits of an omnichannel customer experience
There are many benefits to building an omnichannel customer experience, the most significant of which is that omnichannel customers are likely to spend more with your business! In a survey carried out by Harvard Business Review, data showed that customers who buy through an omnichannel experience spend more than single-channel customers – spending 4% more in person at brick-and-mortar stores, and up to 10% more than single-channel customers online! Data also shows that shoppers who interact with brands using three or more channels also have a much higher purchase frequency rate than single-channel shoppers – up to 250% higher, in fact! In addition, multi-channel and omnichannel users visited stores in-person up to 23% more often than single-channel customers. By implementing a multi-channel system, companies can help to create their own high-value customers and increase their sales through an ongoing, overarching integration strategy, rather than splashing out on specific marketing campaigns.
By implementing omnichannel experiences for customers, businesses can expand their reach and cater to broader audiences through different channels. Different demographics and consumer profiles will favour interacting with brands on different platforms and channels, so by having a presence on multiple different platforms, both online and offline, businesses can reach customers that they may not have been able to with a single or multi-channel approach. By making your business accessible on multiple platforms, not only do you open up to a whole new range of customers, but you also give existing customers considerably more choice when it comes to how they interact with your brand. By integrating your channels as well as having a presence on them, users can interact with whichever channel is the most convenient for them, while still being on a key step in the user journey regardless of their choice.
Omnichannel marketing, when implemented correctly, also provides businesses with a wealth of qualitative and quantitative insights, and a large breadth of data about the customer journey as a whole. Gaining a better understanding of your customers is so important when it comes to targeting and tailoring your offering to their needs, so having an omnichannel strategy in place can be a massive help when it comes to this kind of marketing. It's also a continuous cycle, as the more data you have, the better your infrastructure and strategy are, so the more data you can gather, and so on!
Who should use an omnichannel experience?
Omnichannel marketing and customer service can be used by all kinds of businesses. However, B2C businesses and retail organisations, in particular, have been at the forefront of omnichannel adoption because of the incredible benefits it can offer to conversions, customer loyalty and retention, and improved overall experience for users.
How is an omnichannel customer experience different from a multichannel customer experience?
Users of multi-channel systems have access to a variety of communication channels that aren't necessarily linked or synchronised. In an omnichannel experience, users also have access to more than one channel, but these channels are all linked, so customers can move between them seamlessly.
Omnichannel experiences use multiple channels, but not all multi-channel experiences are omnichannel. Your mobile marketing campaigns can be amazing, your social media campaigns can be engaging, and your website design can be beautiful, however, if they don't work together, customers won't have an omnichannel experience. Multichannel strategies might involve only two or three channels, whereas omnichannel strategies encompass all channels, platforms, and devices. Today, most companies focus on multi-channel experiences. They use each of their social media platforms to engage with customers, including a website, blog, Facebook page, and Twitter account. However, the customer experience is still fragmented across each of these channels and, in many cases, the customer does not have a seamless experience. In an omnichannel experience, customers interact with the company via any device or platform they choose – and they experience a positive and equally efficient experience across them all.
Despite the fact that omnichannel and multi-channel are both based on the idea of engaging consumers across several platforms, they are not interchangeable. Multichannel marketing refers to the use of a particular channel for completing the transaction. By contrast, omnichannel strategies consider the customer journey as spanning multiple channels – and consider how to offer the best experience as the customers move from one channel to another. All interactions, regardless of the platform, are touchpoints on a path that leads to conversion in an omnichannel strategy.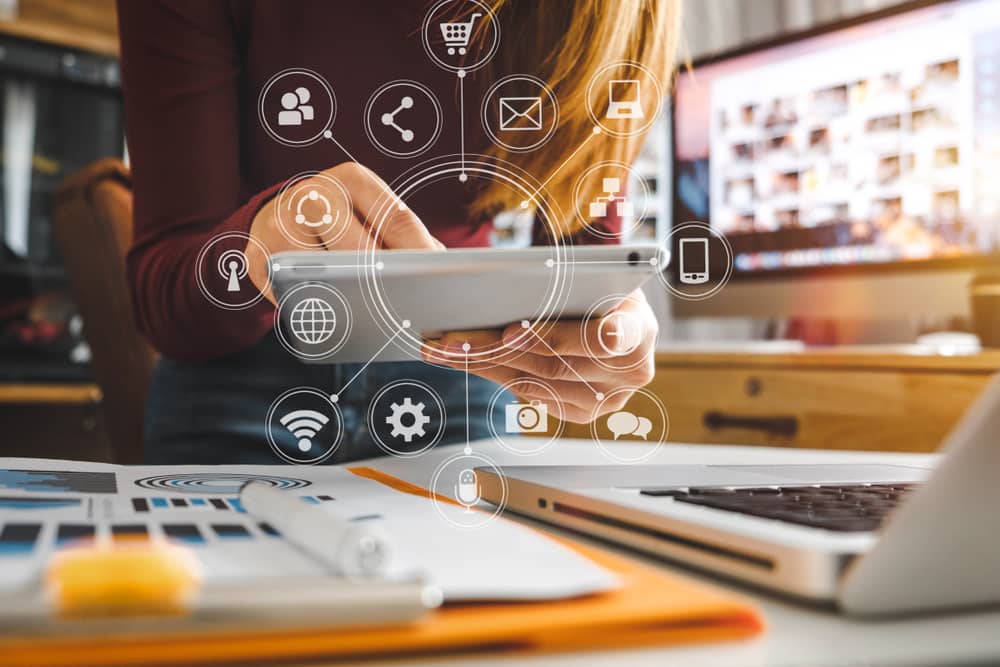 How to create an omnichannel customer experience
Now we know what an omnichannel customer experience is, and why it can be useful for many different businesses, let's talk about how you go about creating the infrastructure needed to create a truly omnichannel experience for your customers! Creating an entire omnichannel strategy is never something that happens overnight, and it's not a system you can put in place and leave to its own devices either! Omnichannel marketing and customer support experiences are always growing and evolving with your business and with new technology, platforms and avenues in your industry. However, there are a few things you can do in order to get started creating a quality omnichannel experience for your customers, and some key areas that your business should consider before diving straight into the world of omnichannel!
Map out and understand your customer journey
Creating a seamless omnichannel customer experience starts with your current customer journey. When thinking about implementing omnichannel processes, you want to start by examining both your current customer journey, and your desired customer journey. If these are the same, then great news! That means you simply need to improve and optimise your journey. If they are different, however, there are plenty of things you can do, both on individual channels and in an omnichannel approach, to get users back on track and interacting with your company the way you want them to!
Either way, you should start by mapping out both your existing and target customer journey, including every one of the touchpoints that your customers hit. Once you can see this clearly, you'll be able to identify areas where many users drop off, areas where additional support is needed, touchpoints which aren't useful to customers or areas where interacting over a different channel would be more beneficial!
Implement omnichannel support
In order to provide a seamless customer experience across different channels of interaction, it is important that you implement an omnichannel customer support strategy.
Some of the key things you want to make sure your support services include are:
Availability on all of the channels your customers use
Ensuring that support on any new channels is completely synced and integrated with existing channels
Ensuring that support staff can access information on multiple channels
Whether it's via your website, on your social media platforms, on an app, via email or on any other channel you're using, customers should be able to get in touch with you for additional support on any platform you encourage them to use. Live chat on your website, social media messaging support, telephone answering services and email support are all services that you'll want to have in place as you roll out an omnichannel customer experience. You should also ensure that your support staff, whether they're internal or external via a service like Outsourced Call Centre, have all the same access to multiple channels. This will allow them to understand the issues of your customers directly, regardless of which channel they are, and also allows your support teams to quickly and easily switch between channels and interactions when required.
At alldayPA, we offer a range of different support and outsourced customer service options to allow our customers to create highly effective omnichannel customer experiences, without having to worry about updating or investing heavily in their customer service infrastructure. If you or your business are looking into creating multi and omnichannel experiences for your customers, please don't hesitate to get in touch and see how we can help!
Understand your audience
A major element of creating an effective omnichannel customer experience is making sure you are delivering what your customers want when they want it, and in a way that is genuinely useful to them. Before implementing any strategy, be it omnichannel, multi-channel or any other kind of strategic move, what you should do first is to deepen your understanding of your audience by conducting some research. A great deal depends on the demographics you want to target, the platforms you use and where you focus your efforts.
For example, if you have a generally younger customer base, you'll want to focus almost all of your efforts online, as social media and brand websites are the most popular channels for interacting with your brand among these customers. Older generations, on the other hand, prefer to shop in brick-and-mortar stores or on company-owned websites. When you are trying to create an omnichannel experience that truly stands out, you need to understand your user base and create customer profiles that make sense for them. Depending on the service you provide, you may have a narrow niche audience, or you may have a broader audience whose interests are much more diverse.
Get real user feedback
Customer feedback can help you create a more cohesive customer experience and improve the customer journey. Collect reviews and ask your customers for their opinions. Discover what your customers want from your brand by collecting feedback. By doing so, you can develop an omnichannel strategy specifically tailored to your customers' needs. Your customers can participate in surveys via email or mobile apps, or you can create a pop-up widget on your site where they can rate their experience on that platform and others, as well as give comments and suggestions on what they want from their experience with you!
Use the right technology
Technology is essential for seamless user experiences. Depending on the customer's preference, support agents should be able to communicate with them through live chat, video and voice calls, mobile apps, and more. At alldayPA, we invest heavily in our technology to ensure we're providing a seamless service to our customers and their users.
Optimise your content and platforms for user's devices
As well as ensuring your internal technologies and infrastructure are set up to deal with an omnichannel approach, you want to ensure that each of the different platforms you're using is also properly optimised for users. Because not all websites automatically adjust their content for different screen sizes, failing to do so can disrupt your customer's online experience. Customers may be deterred from making a purchase or using your website in the future if they encounter such problems. When creating content for omnichannel organisations, it may be time-consuming to have to do the range of checks required to make sure everything is properly optimised, but the benefits in the long run will be well worth it!
Get everyone involved
Implementing an omnichannel experience is not an overnight process. Multiple departments will need to work together, including sales, marketing, customer service, and product teams – cohesive customer journeys are only possible if your organization operates with a cohesive approach internally. A good tip is to start small and then modify the customer journey across further platforms as you go. Experiences can first be aligned across your main channels, then expanded across various platforms.
Whether you're implementing an omnichannel strategy and want to be sure your customer service can keep up, are looking to improve your omnichannel experience for users or simply want to make the most of your customer service resources, please don't hesitate to reach out to the team at alldayPA. We're always on hand to help you scale your business and provide support when you need it.