Young-trepreneurs : How young people are turning hobbies into a business
There's more opportunity than ever before for younger generations to kickstart their careers, turning their passion projects into wildly successful and profitable business ventures. Today, there are businesses across all industries that are being built from the ground up by driven young individuals who are building their own brands from scratch – and in some cases, from the comfort of their own bedrooms.

At AllDayPA, we are firm believers that anyone can achieve great things if they put their mind to it. That's why we've created a campaign to inspire and encourage others to follow their dreams, whatever their age.
We've looked at 15 young entrepreneurs from the Forbes 30 Under 30 List 2022 and 15 from the Hurun UK U30s Young Entrepreneurs 2022 list to compile an index of 30 of the most successful business men and women.
We have then taken a closer look at each brand's net worth, in addition to the number of followers they have across all social media platforms and the number of Google searches each person generates each month.

So, which up-and-coming brands are making their mark in the business world? Keep reading to find out more.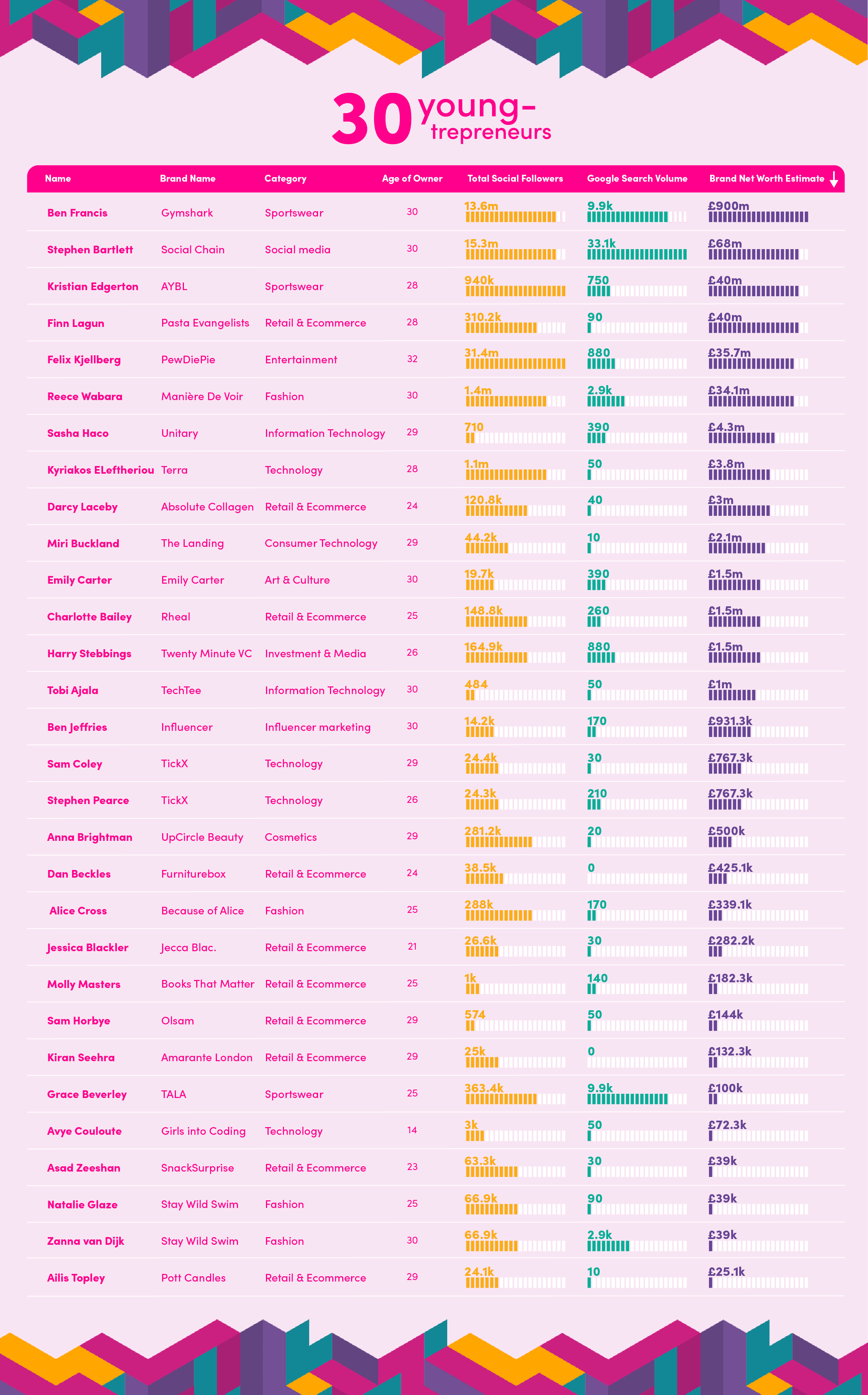 Industry success
According to our research, retail and e-commerce is the most common industry among our 30 under 30. In fact, a third of our young entrepreneurs have earned their success through founding this type of business.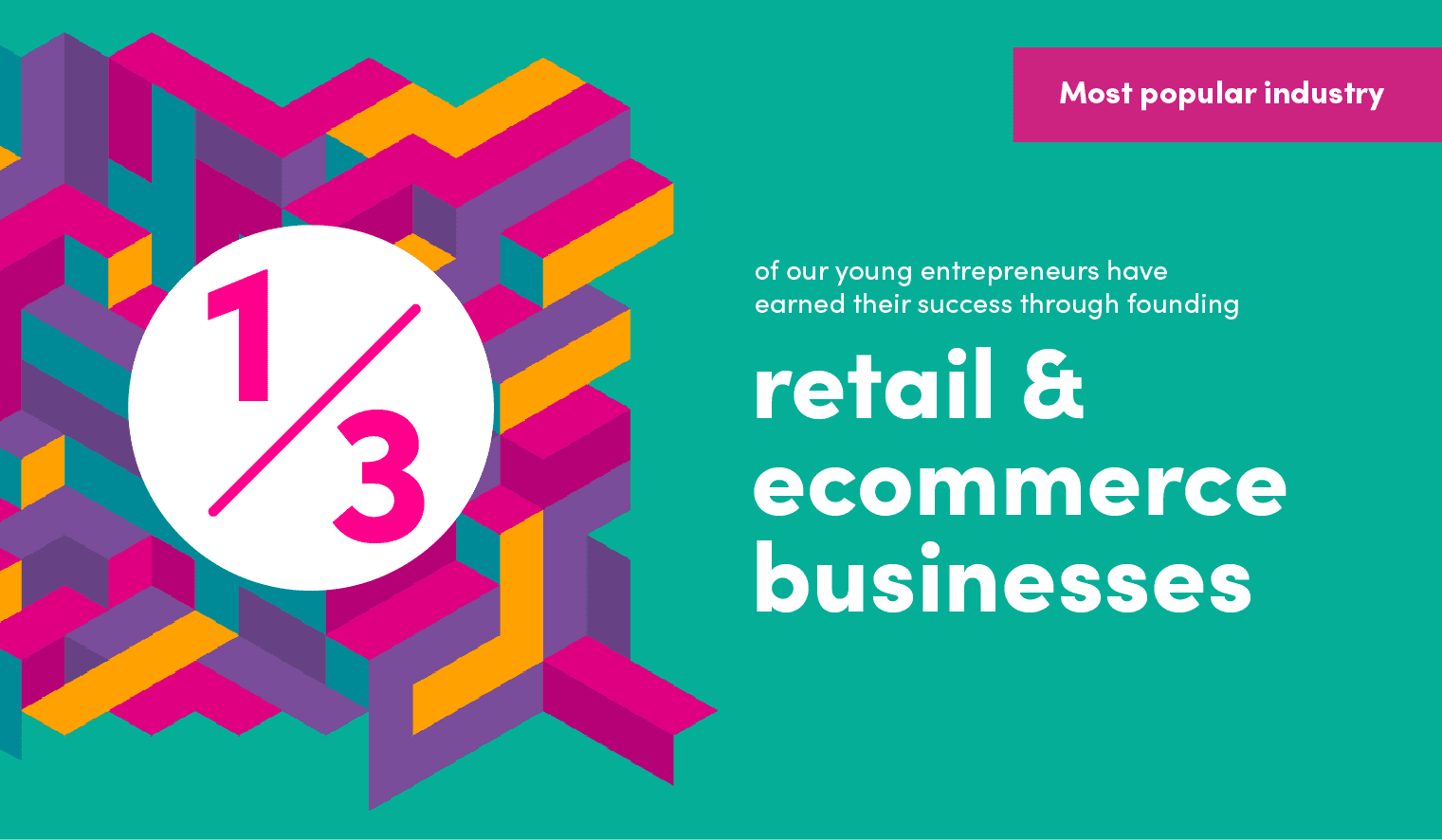 In this category is 28-year-old Finn Lagun – co-founder of Pasta Evangelists, which boasts a net worth of £40 million. While the idea of the now-successful fresh pasta subscription box service was initially dismissed as a "pasta la disaster" before being rejected on Dragons' Den, Lagun and his co-founders have since opened a London restaurant, as well as securing acquisition by Barilla – the world's largest pasta maker.
Other entrepreneurs in this category include Darcy Laceby, co-founder of Absolute Collagen. After discovering the benefits of collagen from her family kitchen, Laceby went on to create the UK's best selling collagen drink. Today, the 24-year-old's business has an estimated brand net worth of £3 million.
Meanwhile, Charlotte Bailey has managed to accumulate a net worth of £1.5 million since 2019 from her sustainable superfood business, Rheal. Influenced by her real-life experience with coeliac disease, Bailey, alongside her partner Sean, have sold their superfood blends to over 100,000 customers.
Fashion appears as another popular industry across our index, with four of our 30 entrepreneurs building businesses within this sector. A front runner in this industry is Natalie Glaze, the 25-year-old co-founder of premium swimwear brand Stay Wild. The brand's designs are produced in a zero-waste factory in London, using regenerated ocean plastic to create the sustainable, profitable business it is today.
Another industry that pops up across the board is technology. Trailblazers in the tech category include CEO and founder of Terra, Kyriakos Eleftheriou. The 28-year-old has managed to accrue an impressive net worth of £3.8 million since the API for the integration of wearable technology, such as Apple, FitBit and Garmin, first launched in early 2021.
A social network
Social media plays an increasingly important role in society today – and follower numbers can play a huge role in the success of a brand. The more followers you have, the more people are seeing your brand – so which of our young entrepreneurs has the largest fan base?
In terms of social following, YouTuber Felix Kjellberg takes first place with 31.4 million followers across all platforms. Better known online as "PewDiePie", Kjellberg has continued to gain popularity on the video sharing platform, racking up an impressive 28.7 billion views on his channel since it was created in 2010. Since he shot to YouTube fame, Kjellberg has successfully expanded his brand to release his own video games and self-help books.

Behind Kjellberg is social media marketing mogul Steven Bartlett with 15.3 million followers. Bartlett co-founded The Social Chain, a social media marketing company that he built from the comfort of his own bedroom at the age of 21. The Botswana-born entrepreneur even dropped out of university to pursue his business dreams.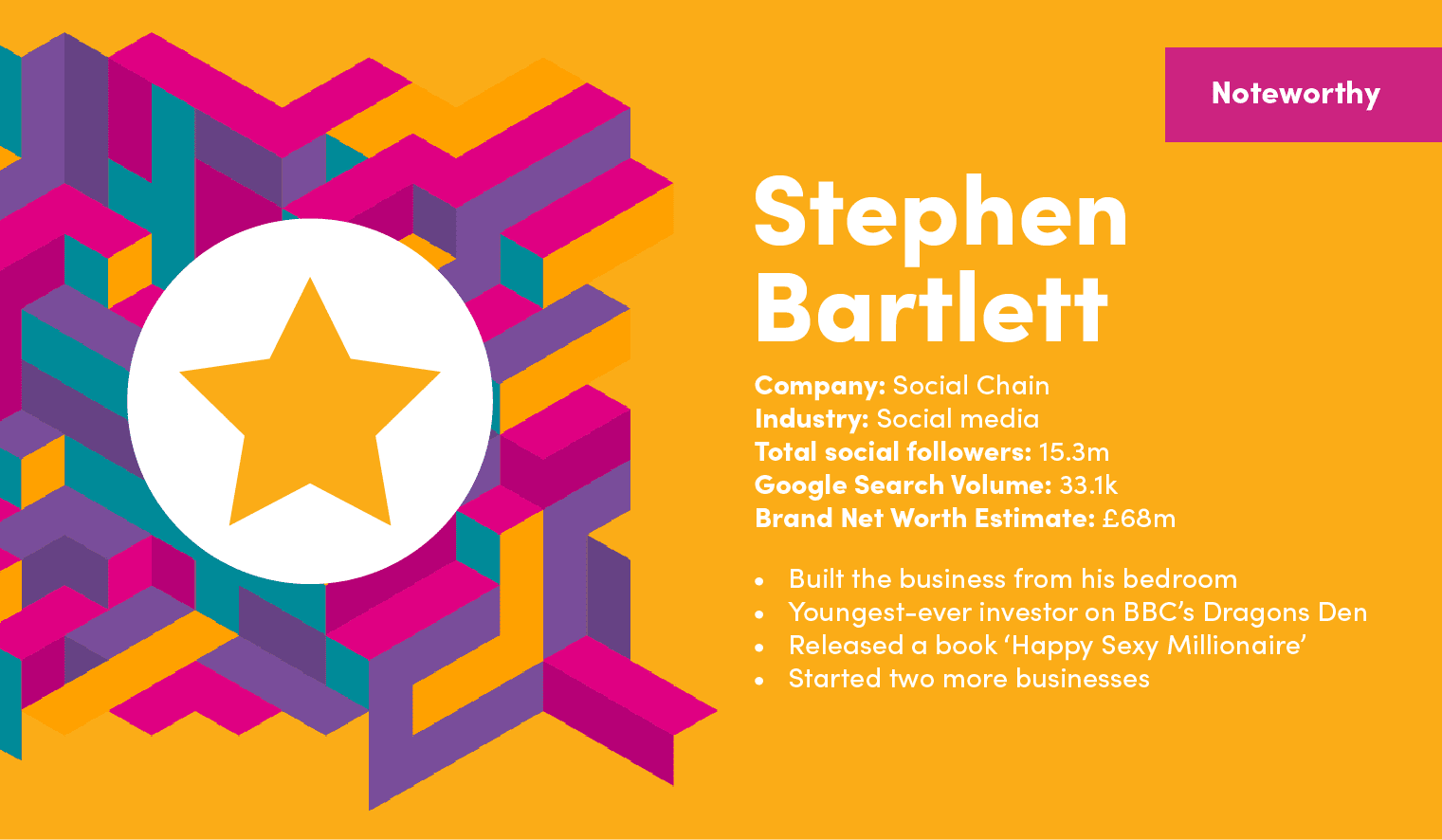 Fast forward to 2021 and it was confirmed that Bartlett would join the panel as the youngest-ever investor on the BBC's iconic Dragons' Den. Since then, he has released his debut book, Happy Sexy Millionaire, a Sunday Times bestseller, and has even announced the start up of two new companies, Flight Story and Thirdweb.
He is closely followed by Ben Francis, the owner, founder and Chief Marketing Officer of Gymshark, with 13.6 million followers.
Google searches
Businesses have so much to gain through Google searches, and monthly search volume can reveal a lot about a brand's popularity. According to our index, Steven Bartlett, creator of The Social Chain, has the most Google searches with 33,100 UK searches every month.
In joint second place are Grace Beverley, CEO and founder of TALA, and Ben Francis, the mind behind Gymshark. Each has a record of 9,900 monthly searches, and interestingly, both entrepreneurs have found success with their respective sportswear brands.

Former professional footballer Reece Wabara comes in third with 2,900 Google searches each month. The 30-year-old is the founder and CEO of Manière De Voir – a UK-based fashion brand for men and women, which has fulfilled over one million orders since it launched.
What does it take to become a young-trepreneur?
See yourself as an up-and-coming entrepreneur? Check out our top five quick-fire tips on how to start building your brand from the ground up.
1. Create your business plan

While it's great to have creative ideas swirling around your head, it's important that you get them down on paper too. Creating a business plan can help you establish a clear mission for your brand, including details about your product or service, your company values and goals for the future.

2. Keep on networking
It's important that you keep up with industry changes. Networking with like-minded people can help you stay ahead of the curve, as well as opening you up to a wealth of new connections. Push yourself to network at conferences and events, and reach out on LinkedIn and Twitter.

3. Watch your spending
As a start up business, it's crucial to watch your spending. You'll find that you have to spend money in order to make it, so it's worth having a clear financial plan in place to account for your outgoings.
4. Use your time wisely
Your time is precious, so it might be a good idea to outsource certain tasks so you can focus on the nitty gritty. For example, using a call handling service means you needn't worry about the phone ringing off the hook, while a personal assistant could help you manage your inbox.
5. Learn from your mistakes

Your journey as an entrepreneur will be one big learning curve, and while you'll have many successes, it's likely you'll make some mistakes too. Instead of letting them define you, learn from your downfalls and turn your setbacks into opportunities to strengthen your brand.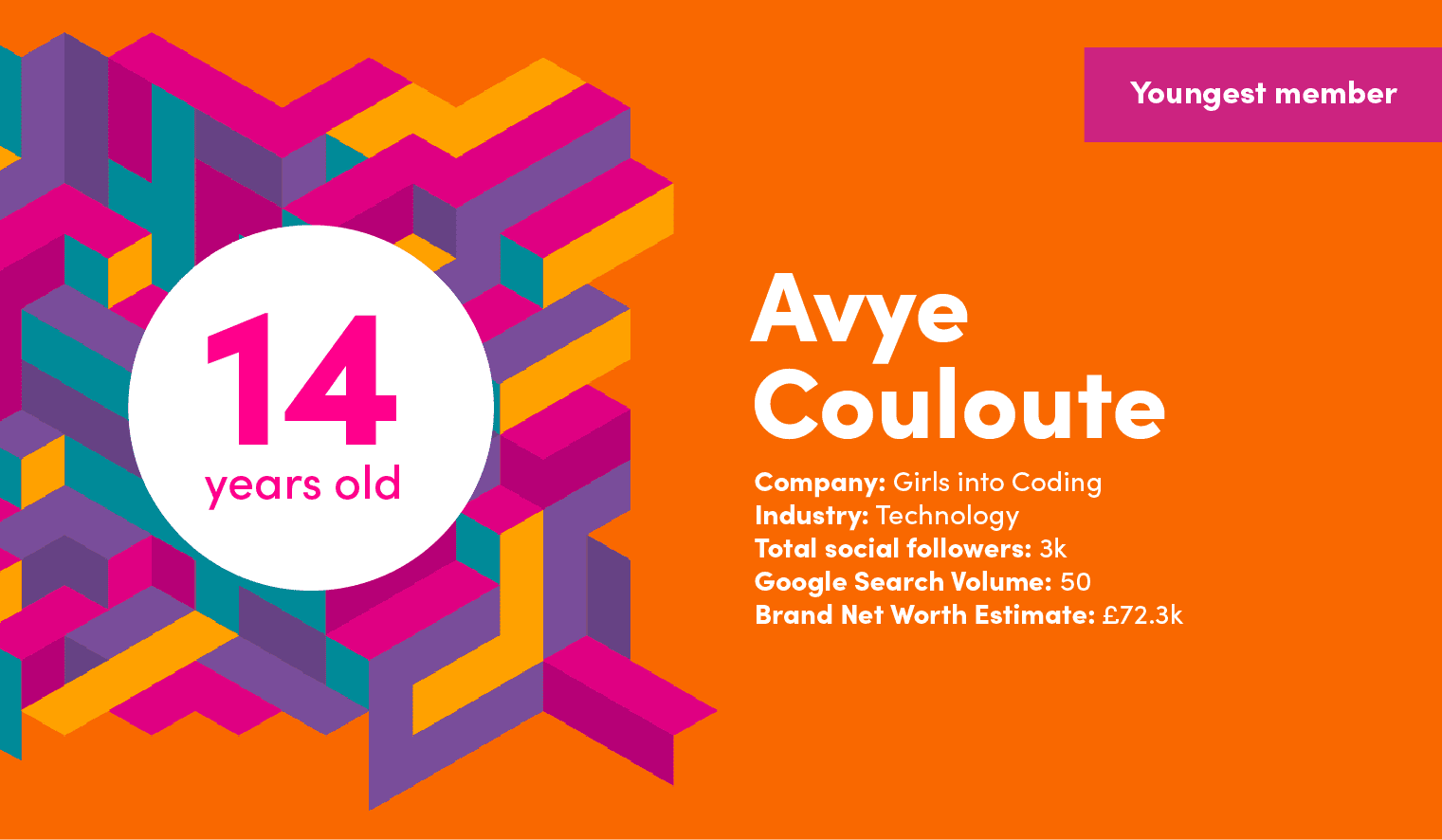 Celebrating the success of our younger business leaders is important, and it can help inspire the generations after us to turn their business dreams into reality. Do you have what it takes to be the UK's next young-trepreneur? Share your goals and aspirations using #YoungTrepreneurs.