The Best Cities in the UK for Customer Service Team Leaders to Work In
In 2019, Microsoft found that 90% of more than 5,000 respondents in their Global State of Customer Service report believe that customer service is vital to their choice of, and loyalty to, a brand. That's a staggering statistic, but ultimately providing a positive customer experience does increase customer retention and loyalty. As such, there is no denying the importance of customer service and the part that these teams play in the success of a business. Here at alldayPA, we're always looking for new talent to join our team!
We're a UK-wide company with four different contact centres around the country, so we were intrigued to see where exactly in the UK is the best place for customer service team leaders to work. To draw these conclusions, our data analysts took into consideration the average wage for customer service team leaders in each of these cities, along with the average living costs. The latter encompassed the likes of water, gas, electricity and internet bills, as well as the average cost of food, socialising, and leisure, including the average gym membership. As well as this, our data experts also assessed the average rent for a person living alone in a 1-bedroom apartment and the average rent for a person renting a 1-bedroom apartment with somebody else. Using all these findings, we then calculated how much the average customer service team leader would have leftover, in cash.
Based on this data from Glassdoor, Numbeo, and The Salary Calculator, we then ranked each city in order from the most to the least affordable place for customer service team leaders to work and live. There are two sets of rankings – the first is based on a single person renting a 1-bedroom apartment alone, whilst the second set is based on renting a 1-bedroom apartment with another person. According to these rankings, Bradford is the most affordable city for a customer service team leader to work in the UK! Nottingham and Cardiff closely follow, with London being one of the least desirable cities for customer service staff to live and work.
In this blog, we'll delve deeper into the findings and what it means for customer service teams. If you're looking for a career in customer service yourself, why not consider a role with alldayPA? We're always on the lookout for new team members, and we're passionate about helping talented individuals have a successful career. For current vacancies, check out our recruitment page online. In the meantime, let's take a look at the best and the worst places to work and live as a customer service team leader in the UK.
The Best Cities For Customer Service Team Leaders Based On Their Leftover Cash When Renting Alone
Using data from Glassdoor, Numbeo, and The Salary Calculator, we created a list of UK cities and ranked them from 1 to 20, with 1 being the best place for customer service team leaders to live and 20 being the worst, when renting a 1-bedroom apartment alone. This data revealed that many of the best cities to live and work in as a customer service team leader are situated within the north of the UK. The most affordable city, according to our data, is Bradford – for team leaders with annual salaries of over £25,000 (£25,046 to be precise), they'll have roughly £670 per month left over, thanks to the city's extremely affordable living costs!
According to our data analysts here at alldayPA, this northern city is the perfect place for those that are looking to pursue a career in customer services. Our findings show that the average person in these roles tends to have an average monthly salary of £1,697 after tax. Around £566.75 of their money then goes towards their living costs, and £460.62 on rent. This leaves them with plenty of leftover cash (£670) to enjoy all that the North has to offer.
Bradford has long been a popular place to live – because it is close to other major cities such as Leeds and Manchester, its location makes it a great city to live in if you're planning to commute. Our findings also complement what Accent Group have discussed regarding Bradford's affordability – they state that Bradford has an array of affordable housing options, for both buyers and renters. As well as this, the city has also experienced recent economic growth, which has been especially noticeable with the increase in the presence of businesses that have chosen to call the city home. Inevitably, this will mean that more customer service jobs are up for grabs!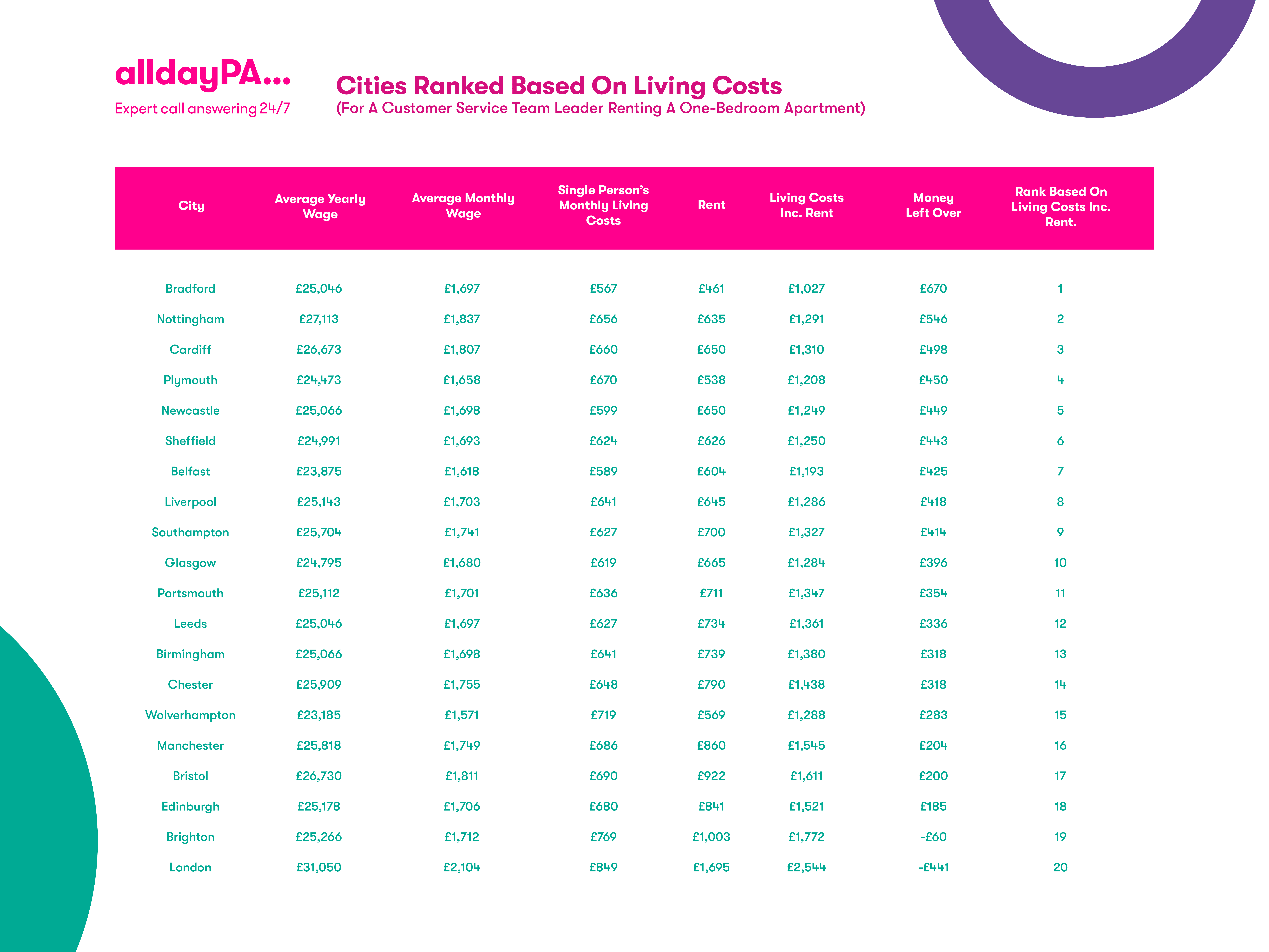 When considering the leftover cash of individuals that rent alone to determine affordability in each of these cities, Bradford is closely followed by Nottingham, which is in second place (£546 of leftover cash each month), then Cardiff (saving £498 of leftover cash each month). In fourth place is Plymouth (saving £450 of leftover cash each month), which is then very closely followed by Newcastle – living in this city allows single renters to save £449 of leftover cash every month, on average.
Within the top five cities are popular northern locations, and the cities of Sheffield and Liverpool also make the top ten according to our data experts. This further supports the idea that the North of England is cheaper than the South. In fact, iNews has reported that many people from the South are relocating to the North because of cheaper house prices and a more affordable cost of living. The North is now becoming just as competitive as major Southern cities, just like London, when it comes to business opportunities and customer service jobs. With recent investment and a focus on building a Northern Powerhouse, people living in these areas can enjoy numerous job opportunities and the chance to build a career. These opportunities will no doubt include customer service roles too!
The Best Cities For Customer Service Team Leaders Based On Their Leftover Cash When Renting With Another Person
To draw up our conclusion about the best cities to live in, as well as considering the leftover cash that customer service team leaders have when renting alone, our data experts also looked at the cash leftover when these individuals rented a 1-bedroom apartment with somebody else, as this is now a common way to live. Inevitably, renting a property with another person will give people much more leftover cash to spend however they wish.
With this approach, Bradford still comes out on top as the best city to live in, based on renting with another person. In this city, the average annual salary for a customer service team leader is £25,046, which certainly isn't the highest average wage in our list of cities. However, the city makes up for this based on affordable living costs and rent – on average, each month, team leaders can have around an impressive £900 of leftover cash if they choose to rent their property with somebody else!
Following Bradford is Nottingham, in second place, where team leaders earning around £27,113 per year have roughly £863 of leftover cash. Next is Cardiff where the average annual salary for team leaders is £26,673, and the cash left over for those that rent with another person is £822. Next to follow in the rankings is Southampton, and then Sheffield in fifth place. This order, and the cities within the top 10, don't differentiate too much from the list of best cities to live in when renting alone – there are some movements in the rankings, but nothing too major. This approach also consolidates the view that the North is generally cheaper than the South, and that London is the most expensive UK city to live in.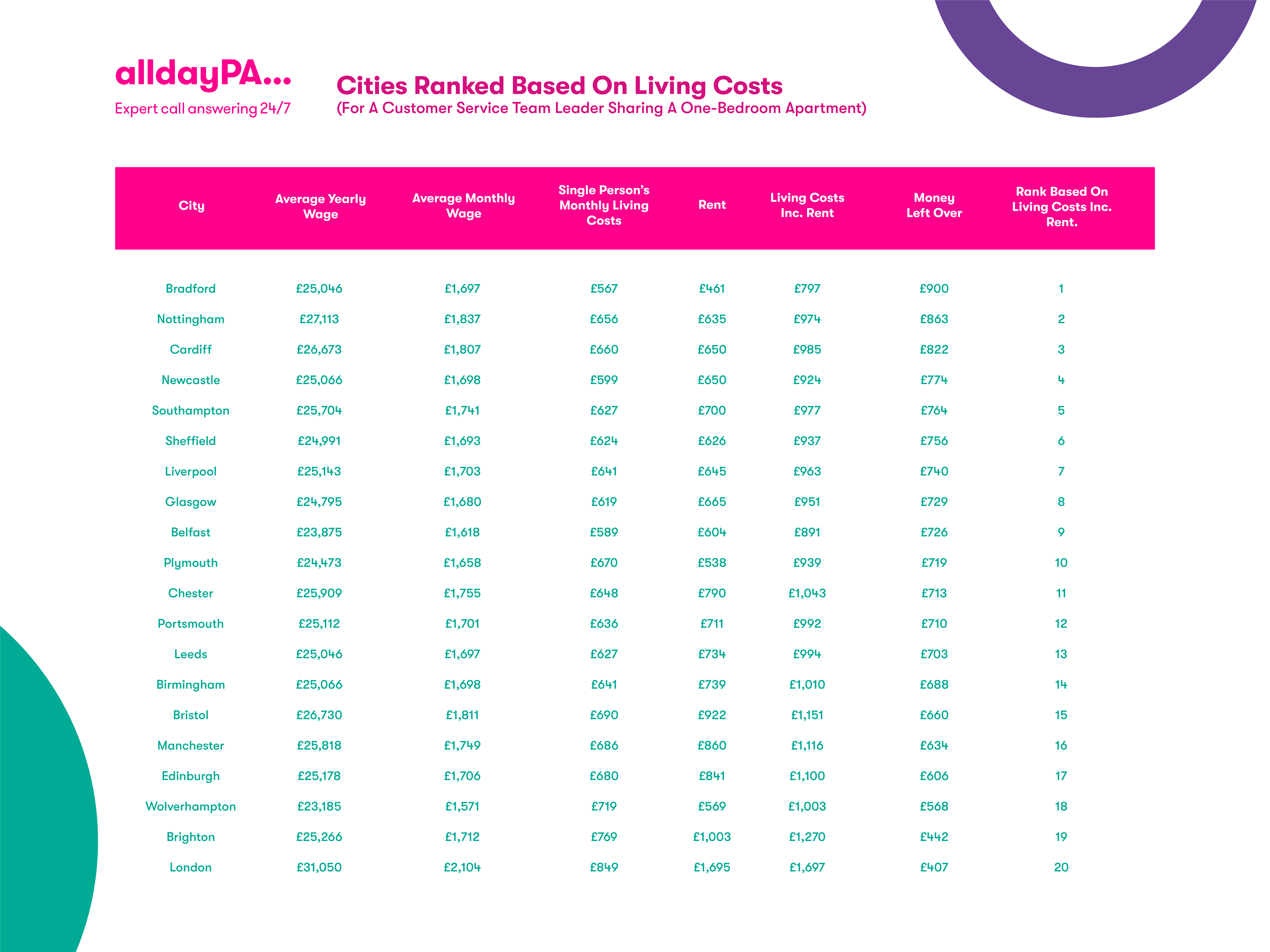 Arguably, the most interesting finding is regarding London – it's common knowledge that this city is extremely expensive to live in. Despite having the highest average annual salary of £31,050, the living costs mean that the leftover cash isn't anywhere near as much as other locations, namely northern cities. In fact, to rent alone in London, our findings show that the average team leader wouldn't have any leftover cash at all, with the figure scoring negatively at -£441! Yet, when sharing a rental property with somebody else, individuals are left with an average of £407 to play with. Clearly, when living in London, the best option is to rent with another person if your circumstances allow.
Head of Customer Services at alldayPA, Gareth Jeffery, comments on how the North is becoming the UK's business powerhouse:
"Looking at these data findings, we've seen that Bradford is the most affordable place to live in the UK. However, after reviewing the data of all of the locations, we can see that the North is overtaking London by becoming the business powerhouse, as it offers people a more sustainable lifestyle and extra cash to be able to save money and live more comfortably.
We have also noticed that the North West is the region with the highest number of budding entrepreneurs. Making the list for being one of the most budget-friendly regions to live in England, both Chester and Manchester, in particular, score highly as some of the best places to live for start-ups, small businesses and customer service jobs."
The Skills & Traits That Are Needed To Excel In Customer Service
Working in this sector involves a lot more than just having a few admin duties and picking up the phone to deal with customer enquiries. Whilst that can be a major part of the role, it also involves so much more than that. Because the roles in this area can be so varied, there are a range of different skills and traits that customer service teams must have in order to excel within their role. Here at alldayPA, all our PAs are trained to the highest standards and boast an assortment of essential skills.
Let's take a look at some of the most important skills that customer service assistants and team leaders should have:
Organisation
You'll play a huge part in the organisation of the business you represent, as well as of key stakeholders. Quite often, you'll be responsible for booking appointments and meetings, either for customers that contact you or for other employees within the business. Because you'll be dealing with several different people and their diaries, you must remain organised, so having amazing organisation skills is essential! Much of this will come with having a sound understanding of the software and applications that you have to use on a daily basis, especially if this is a booking system or a CRM.
Communication
All excellent customer service assistants and team leaders must have fabulous written and verbal communication skills! A key part of your job is dealing with different people, all with varying personalities, priorities and expectations. It's important to remember this and to tailor your communication appropriately. You'll be communicating via email, letters, over the phone and face to face. As such, you must have brilliant communication skills across the board, regardless of your method of communication. Great communication will also help you to avoid any misunderstandings or confusion between you and your other employees or your customers.
Ability To Work Under Pressure
The role can involve a lot of multitasking, which in itself is a key skill. However, multitasking can add a lot of pressure, so it's important to know how to work under this pressure. You'll be working in a fast-paced environment, regardless of whether you're behind a desk and dealing with people face-to-face, or whether you're a virtual receptionist that just deals with customer calls and emails. As well as this, you'll often have tasks that must be completed at the end of the day, so organisation is important here too! You must know how to prioritise your tasks accordingly to ensure that they are all completed on time and to the highest standard.
Customer Service Skills
Above all, it goes without saying that you must have great customer service skills. Put simply, customer service is the support that you offer to customers and clients before, during, and after they have purchased your services or products. Whilst it seems relatively straightforward, customer service is a broad term that has various different aspects. The same can be said for "customer service skills", which can involve a wide range of skills and traits. For example, these skills can involve being empathetic and understanding towards those that have issues that need solving. It can also encompass active listening and using a friendly tone of voice at all times, as well as problem solving, professionalism and patience.
Whilst many necessary customer service skills will be the same regardless of the sector you're in, some may be sector-specific. Here at alldayPA, we have dedicated PAs for different industries. So, if you're a business owner looking for a virtual receptionist or a customer service team, you can rest assured that your PAs will know your industry well. And, if you're an individual looking to train in the customer service sector, you can be fully confident that when you join our team you'll be trained by experts who'll show you the ropes in different industries!
Working For alldayPA
When you work for alldayPA, you'll be joining a supportive team that nurtures talent and helps individuals to progress and enjoy a successful career in customer service. Roles in this sector are becoming increasingly popular – the job can be rewarding, and people genuinely just like helping others too! Here's a little bit more information about what our roles in customer service entail, in terms of the day-to-day responsibilities you'll have for clients:
An Insight Into The Role And Responsibilities
Providing a professional telephone answering service, including remote switchboard services and call triaging
One of the major parts of our service is call handling – our virtual receptionists deal with many incoming calls a day for the businesses that use this package. When answering these business calls, you'll be responsible for gathering caller details such as their name, contact details, and their message, so that the most relevant person can call them back. If someone is available to take the call, you'll use our remote switchboard to pass them onto the dedicated team to deal with their issue. With our call triaging, you'll also work with the business you represent, helping them to deal with their most urgent enquiries as a priority.
Diary management
A key responsibility is diary management, especially when you join our team as a virtual receptionist. The businesses that use our services often need the help of our teams to stay organised. As such, you might be responsible for setting reminders, booking appointments, and scheduling team meetings. You'll work with the businesses that you represent to ensure that you manage their diary exactly how they want you to! Everyone has different preferences, and every business works differently – that's just one of the many reasons why this role is varied and exciting! But because of this, it's important to tailor your service appropriately to help that business excel and reach its full potential!
Management of live chats, social media enquiries and email messages
Nowadays, customers are reluctant to just pick up the phone to speak to a member of a customer service team. Instead, providing that they have an internet connection, they may choose to reach out via email, social media or even a live chat service if businesses have one on their website. When you join our customer service team, you'll help businesses deal with the messages that come through these channels. You'll have to tailor your tone and approach accordingly to build a rapport with the customer. Helping customers to solve their issues can be an extremely rewarding part of the job!
Above all, you'll have to go above and beyond for clients
Customer service at alldayPA isn't just about providing our client's customers with a great experience, but it also pertains to the way that we treat our own clients too. No matter what your day-to-day entails, it's essential that you always go the extra mile for clients. They're entrusting you with their customer interactions, which isn't a responsibility to take lightly. You have to be passionate about helping their business to grow and succeed, and put this at the heart of all you do!
What We Offer Our Employees At A Glance
A competitive salary, in line with the National Living Wage
A monthly bonus scheme
28 days holiday
Flexible working – start early, finish late, work just mornings or just evenings!
Additional shifts if you'd like them
Training and development
Career progression
Interested In Perfecting Your Customer Service As A Business, Or Being Hired To Join Our Team? Get In Touch With Us Today
If this blog has got you thinking about a career in customer service here at alldayPA, then we'd love to hear from you. We're always looking for the best talent to help us provide a quality service to our clients – when you join our team, you'll be surrounded by a supportive bunch that are keen to help you build your skills! We're also a National Living Wage employer too with four different contact centres around the country. Wherever you are, you can enjoy a fair income in whichever city you decide to work, live, and play in!
And if you're a business owner who's been thinking about outsourcing your customer interactions, why not check out our dedicated service page to find out more about how we can help you to meet and exceed your customer expectations? We offer a broad range of services from Telephone Answering to our Virtual Receptionist and Outsourced Call Centre package, which allows you to enjoy a bespoke service tailored to your business model.
All of this then helps you to provide a top-class customer service experience to your potential customers – amazing customer care is vital for customer satisfaction, loyalty and maintaining an unrivalled reputation! We're the ideal solution for a wide variety of businesses that are aiming for business growth by outsourcing their customer interactions – we're a more cost-effective solution than hiring an in-house team too! Just call our team any time between 9am and 6pm on weekdays to find out more about our service offering.
Data Sources: