What Is Diary Management?
Diary management is crucial to staying on top of your schedule, prioritising your workload and practising effective time-management strategies can be a real struggle for many professionals. Despite the challenges, it is crucial that businesses, no matter the industry, keep track of tasks to ensure deadlines are met and efficiency is maximised. Businesses that look to proactively manage their time and correctly schedule each task have a much higher chance of excelling. After all, being highly organised is what helps a successful business deliver consistent and professional services! For many growing businesses, appointment management can become particularly challenging as customer demand rises and call volume increases. As a result, outsourcing these time-consuming tasks to a competent third party can be extremely beneficial to your company, freeing up valuable time and improving the efficiency of your processes and customer service.  
We answer your calls when you can't.

Telephone Answering
Small Business

Virtual Receptionist
A Bit Bigger

Outsourced Call Centre
Even Bigger
Here at alldayPA, our highly experienced team of virtual receptionists alleviate the stress of scheduling and booking appointments. We provide businesses in the property, legal, health and marketing sectors with professional diary management services. No matter what your requirements and services may entail, we take care to tailor our services to your business's needs. Our team of experienced, friendly, client-oriented virtual assistants consistently deliver amazing customer care, giving our clients the confidence that their diaries are perfectly managed. 

If you are looking to streamline your processes, extend your call answering capacity and reduce overhead costs, alldayPA are here for you – never miss a call or appointment again! To find out more about our telephone answering services and diary management assistance, call us anytime 24/7.
How can diary management support business activities?
It's very important for any business owner to keep an accurate diary so that they can keep track of everything from internal meetings, external meetings and conference calls to deadlines, travel arrangements, and appointments. By strategically organising your tasks in a comprehensive and understandable way, businesses can run smoothly and business owners will work more productively. Efficiency is key to any organisation, as without it, many things can go wrong and important meetings can go unscheduled. Diary management entails scheduling and documenting each and every forthcoming meeting in a precise and timely manner. Essentially, a diary manager will create and maintain a coherent record of all events in an orderly format for business owners – producing the perfect companion for a busy professional. In the modern world, schedules can be added to and updated using effective diary management software such as Google Calendar or other integrated scheduling applications. Online calendars are a great way to ensure that calendars are accessible by all relevant colleagues, as this reduces the risk of meeting clashes. 
So, what else can diary management include?
Arranging telephone calls and zoom meetings
Booking travel arrangements such as hotel rooms and transport
Slotting in personal time and personal appointments
Blocking out time for events 
Booking in client meetings
Rearranging meetings and events 
Working tasks around deadlines
In a nutshell, your well-managed diary will act as a solid reference point when it comes to conveniently slotting in new appointments and determining your availability. When you outsource to a telephone answering service – such as alldayPA – it allows them access to your diary so they can take charge of all incoming booking enquiries and amend existing commitments, ensuring every business day runs swimmingly.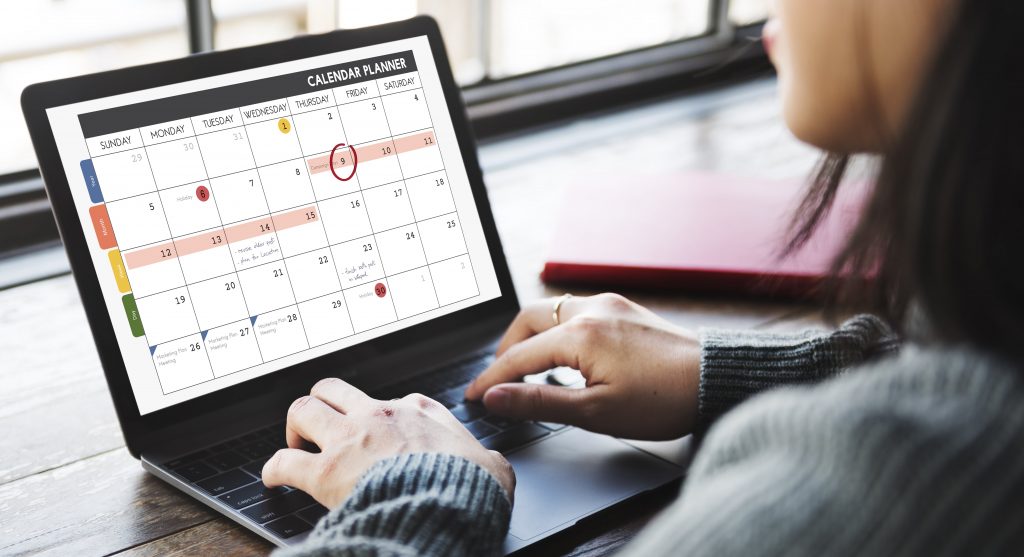 The importance of organisation when running a business
It goes without saying that time is a valuable commodity for any professional, which is why it must always be managed carefully. The organisation and prioritisation of tasks is integral to daily operations and the overall success of a business, no matter how big or small it may be. In fact, for small businesses, implementing processes to increase your efficiency can be hugely beneficial in supporting your growth. Business owners and employees in both start-up companies and rapidly growing businesses are often faced with an immeasurable number of responsibilities to juggle. To mitigate the challenges that come with a chaotic workflow, it is essential to ensure that all employees are clear on their duties and all upcoming deadlines, events, meetings and appointments.  By organising where, how and what current and future tasks will be delegated to each team member, you can build plans around how your business will manage all aspects of work. 
Whether your business is part of the legal sector, hospitality industry, finance sector or the trading industry, implementing proactive organisational standards will inevitably progress your business and ensure you achieve your goals. Diary management is a vital component of staying organised, as documenting errands and meetings will enable you and your team to identify areas of free time – allowing additional tasks to be slotted in accordingly. In addition to this, organising schedules month-on-month will ensure consistency and efficiency within your business. Diary management is important for the following key reasons:
Improving customer service and brand loyalty
Double booking appointments or forgetting to pencil meeting times in can have a drastic impact on how customers or clients perceive your business. Providing your virtual assistant with your current rota enables them to gain an understanding of where appointments can be booked in, ensuring no
overlaps occur. For customers, experiencing a quick and easy booking process over the phone ensures complete satisfaction. In contrast, a messy booking system that is inconsistent will result in a lot of unhappy customers. 
Creating free space for essential errands and breaks
When it comes to participating in multiple meetings a day, it is easy to be presumptuous about timings and attempt to cram in as many meetings as possible to get them out of the way. However, this approach dismisses the possibility of overruns and unexpected interruptions.  Therefore, it is important to carefully plan appointments to allow for unforeseen delays and extensions. An essential diary management skill is the ability to make room for buffer gaps, travel time and breaks between meetings. This will allow you to increase your productivity but also helps to reduce the dreaded rush that can easily occur between meetings.
The benefits of outsourcing diary management
Juggling all of your incoming queries, appointment scheduling and keeping on top of essential administrative tasks can be incredibly time-consuming and stressful. As your business grows, finding time to allocate your time in the most efficient way possible can be a challenging task to approach. Outsourcing your diary management can be extremely beneficial to your business, improving your productivity and time management. There are a range of advantages to delegating these tasks to a virtual assistant, such as alldayPA. In a nutshell, outsourcing enables you to take advantage of:
Advanced schedule management – alldayPA are experts in dealing with complex diaries and intricate schedules. We ensure that appointments and meetings are always effectively managed, allotting sufficient time for meetings events into diaries without difficulty. By combining our teams' diary management skills with our competent diary management software, we can approach our clients' schedules with diligence, expertise and confidence. 
More time available for urgent matters – Outsourcing diary management frees up valuable time for businesses to complete additional tasks with the utmost confidence that their schedules are being professionally maintained. Once your diary management is allocated to a capable customer service company, you can start to dedicate resources to other key duties.
Simplistic appointment booking process - Our fantastic telephone answering service can be blended with diary management services to ensure fluency and consistency are maintained when appointments are booked. Our approachable and friendly team will gain access to your online diaries, enabling them to simply slot bookings in where most appropriate. Meeting requests will be instantly dealt with and scheduled in a convenient time slot, without clashing events. By having alldayPA at the forefront of your business, we will take care to represent your business in the best possible way. Through easily booking appointments and delivering amazing customer service, your business will obtain a fantastic reputation and earn brand loyalty.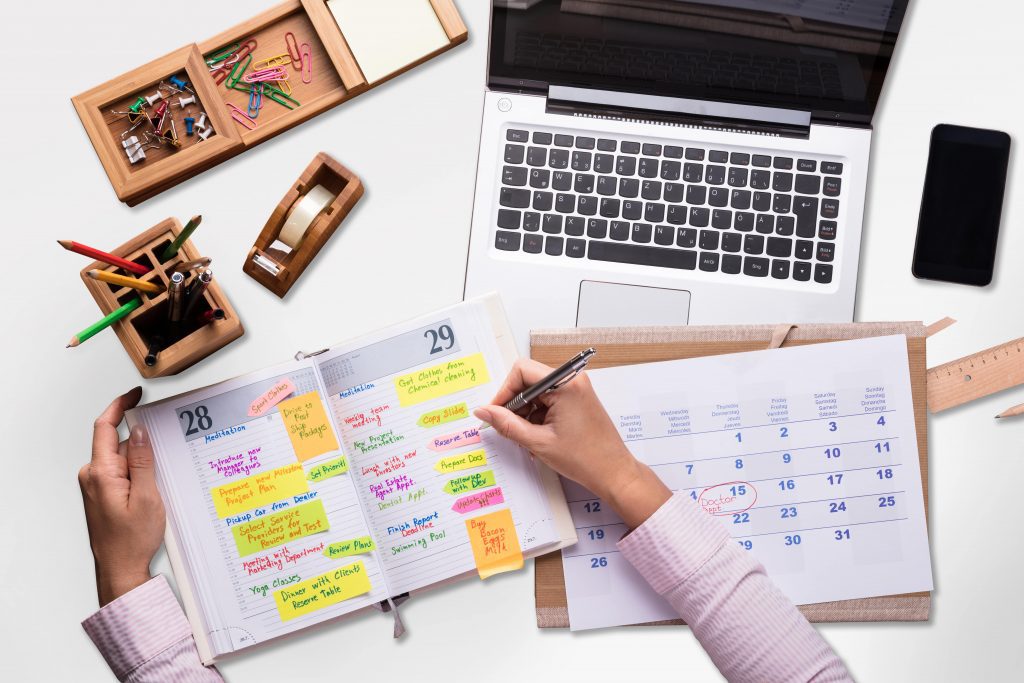 Tips and tricks for staying organised, for your diary and beyond…
Here at alldayPA, we've years of experience in finding the most effective methods of organisation. For any business, the ultimate goal is to manage time competently so that you can focus on accelerating your company. By taking the time to identify and implement new processes and intelligent time management software, you will ultimately win back time in the long run that you can spend focussing on bigger tasks. Here are some ideas on how to do this:
Update your to-do list regularly – Some tasks may seem urgent but a week later, may no longer be necessary,
Personal time – If you have a busy professional diary, it's important to schedule time for personal responsibilities and appointments.
Prioritise – At the start of every day, rank your tasks for the day in order of importance and deadline. 
Tools – There is a range of online tools to help you manage your time, including Google Calendar, Outlook, etc.
Block time out for completing small additional tasks – No matter how small the errand may seem, these minutes add up – stealing precious time from your schedule.
Colour code your calendar – This will allow you to see, at a glance, what type of tasks/events you have due that day.
Regular meetings – Set up recurring meetings, annually, monthly or weekly, on your calendar. Letting others know that certain meetings will take place at the same time always will make planning other meetings around it much easier.
Remove unnecessary tasks -Check over your current calendar to see where some tasks can be disregarded or delegated to others.
Agendas – Set clear agendas for all meetings to ensure that every duty carried out is valuable or worthwhile. Lengthy additional business should be assigned to a separately scheduled meeting.
Plan timing – Allocate sufficient time for each point on the agenda to ensure everyone has time to contribute.
Virtual meetings – Many online platforms are available to enable meetings to take place virtually, saving you travel time and expenses.
Email communication – Before arranging a meeting between several people, ask yourself whether a meeting is necessary or an email would suffice. All too often we are guilty of conducting lengthy meetings whereby the topic of conversation could have been emailed.  
What else can alldayPA do for you?
We've got an extensive range of bespoke services, all of which are tailored to synchronise with the business needs of companies in a range of industries. Our Manchester-based customer service company supplies businesses with countless experienced and professional staff members to handle inbound calls, social media messages, live chats and texts. We pride ourselves on our 24/7 operating hours, allowing us to offer competent support to your customers all day long. Our skilful team pays meticulous attention to detail and is committed to delivering the highest standard of service. By working with us, you can gain reassurance that your business is in safe hands. 
Business owners can also maximise savings by using our services and packages instead of hiring internal staff. As well as saving businesses time, this also allows them to focus on their core activities, such as business meetings and training sessions. We have gained a wealth of knowledge from working in so many industries. We have experience assisting businesses in PR and marketing, the legal sector, the property industry, business support and much more. We can support companies with business enquiries that are received via phone call, email, social media and live chat. Whether your organisation needs to onboard an outsourced call centre or a small team of call handlers, we are here for you. As part of our packages, we also include CRM integration, so your business can run smoothly.
Ready to transform the efficiency of your business? 
With time being a precious commodity to any business, it is crucial that you find a reliable solution for managing it well. By outsourcing your diary management responsibilities to the skilful team at alldayPA, you can focus on what matters most – growing and improving your business. Lift a weight off your shoulders by transitioning your customer service to us. Our cost-effective telephone answering services and virtual receptionist packages work harmoniously to elevate your customer service. Contact us today to find out how we can help you manage your business in the most cost-effective way.